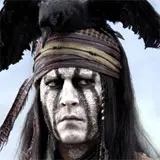 Update: The Lone Ranger had a repeat performance on July Fourth with another $10 million, bringing its two-day total to only $20 million. It is still pacing to complete the five-day frame around a disappointing $45 million. More to come.
Disney's The Lone Ranger got bucked off Silver before breaking out of a trot in its opening day at the box office on Wednesday. In stark contrast was Universal's Despicable Me 2, which more than tripled the box office take of Armie Hammer and Johnny Depp's adventures in the old west.
Steve Carell, Kristin Wiig and a small army's worth of yellow pill-shaped minions exploded to a huge $34.3 million opening day on July 3 with the arrival of Despicable Me 2. Aided by a high 3,956 location count and the benefit of 3D ticket prices, Despicable Me 2 is now pacing to wrap the Wednesday through Sunday five-day holiday frame in the neighborhood of $125 million. The original Despicable Me opened after July 4th and earned $56.4 million during its more traditional three-day opening weekend in mid-July 2010.
Disney potentially has another John Carter situation on its hands with The Lone Ranger. Despite the usually bankable combination of Johnny Depp and Jerry Bruckheimer, Disney's attempt to launch another Pirates of the Caribbean-like franchise flopped on Wednesday with only $10 million. That came in much lower than already revised south expectations of $15 million. Now the five-day projection is only $45 million, a far cry from the film's $225 million production budget.
Holdover Monsters University came in third on Wednesday with $5.4 million and has now earned $191 million to date. It will cross $200 million this weekend and should reach around $250 million before exiting theaters for home video.
Last weekend's champ The Heat dropped to fourth place with $5.2 million. At $55 million already, the Sandra Bullock and Melissa McCarthy pairing has already passed its $43 million budget and should continue a march toward $100 million.
Capping the top five and knocking out dud White House Down was Brad Pitt and World War Z with $3.9 million. The zombies flick continues to play strong and has now reached $136 million domestically and $271.4 million worldwide.
Disney and Universal are already targeting Blu-ray and DVD pre-orders for The Lone Ranger and Despicable Me 2, respectively. The Lone Ranger has cracked Amazon's top 10 bestsellers in Blu-ray chart.
Pre-order your Blu-ray and DVD combo early at Amazon with their low price guarantee: The Lone Ranger | Despicable Me 2