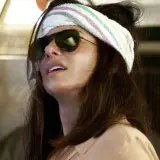 The Heat caught fire at the weekend box office to affirm that Melissa McCarthy is not a one-hit wonder, and Sandra Bullock still has her comedic chops and knows how to use them. The other new film on the scene, White House Down with Channing Tatum and Jamie Foxx, never stood up after falling flat during its Friday opening. It was ultimately Pixar's Monsters University that had the last laugh – or is that scare – in topping the North American box office for the second consecutive weekend frame.
Off a mere 44 percent from its opening weekend a week ago, Monsters University sold $46.2 million in ticket sales from Friday through Sunday to land in first place again. To date, the Pixar prequel has earned $171 million domestically and just over $300 million worldwide. It will take a hit starting Wednesday with the arrival of Universal's Despicable Me 2, though should still do decent business heading into the Fourth of July period.
The Heat found no shame in second place with $40 million making it the best opening ever for a Sandra Bullock film. Bridesmaids director Paul Feig and star Melissa McCarthy also found success in their second pairing as interest in their new collaboration helped fuel The Heat to top the Bridesmaids debut by nearly $14 million. With an "A-" CinemaScore, look for The Heat to stay hot with female audiences and blow right past $100 million by the end of next weekend.
Brad Pitt and World War Z jumped a spot since Friday and landed in third place for the weekend with $29.8 million. At $123.7 million domestically and over $259 million worldwide, World War Z continues to defy expectations and strengthen the case for Paramount to ramp up the sequel with a sense of urgency.
Roland Emmerich's White House Down crashed into fourth place with $25.7 million, well below the already low Sony estimate of $30 million. As the second "D.C. under attack" film this year behind Olympus Has Fallen, it appears audiences got their fill of national monuments blowing up already and weren't too interested in seeing Channing Tatum blasting bad guys. Over 51 percent of the audience at White House Down was female, proving the Tatum draw lifted the film from what could have been a sub-$20 million disaster.
Man of Steel powered into fifth place with $20.8 million and subsequently took its global tally up over $500 million and counting. At $248.7 million domestically thus far, there's a strong possibility that Man of Steel will breach $300 million before heading off to Blu-ray and DVD.
The remainder of the top 10 is as follows:
6. This is The End (Sony) $8.7 million (-34.5%); $74.7 million
7. Now You See Me (Summit) $5.5 million (-30.2%); $104.7 million
8. Fast & Furious 6 (Universal) $2.4 million (-51.1%); $233.3 million
9. Star Trek Into Darkness (Paramount) $2 million (-35.6%); $220.5 million
10. The Internship (Fox) $1.4 million (-58.1%); $41.7 million
This upcoming Wednesday sees the release of Universal's Despicable Me 2 and Disney's The Lone Ranger starring Armie Hammer and Johnny Depp. There's a good chance those little minions will beat out Disney's expensive western gamble through July 4th. Either way, expect Monsters University to dip into third place or lower.