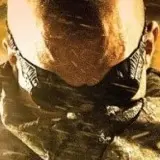 Universal's Furyan antihero has returned to the big screen and means business as Riddick starring Vin Diesel faced zero resistance in topping the North American box office on Friday. The champ from two weeks ago, The Butler, held its second place position, while We're The Millers wrapped the top three.
Driven by a return to its R-rated roots, Riddick caught the attention of franchise fans let down by Universal's attempts to make The Chronicles of Riddick into a mass market film nearly a decade ago, complete with a PG-13 rating. Opening day ticket sales reached a modest $7.3 million from 3,107 locations, right on track with the film's projected $18-20 million opening weekend. Given Diesel's worldwide appeal, there's still plenty of room for Riddick to move upward toward its estimated $38 million production budget.
Lee Daniels' The Butler had to settle for a distant second place finish on Friday with $2.37 million. Despite relinquishing its box office throne a week ago, The Butler has currently earned $85.3 million, should reach $90 million through Sunday, and will cross the magical $100 million mark before exiting theaters and heading off to Blu-ray and DVD.
Warner's R-rated comedy We're The Millers continues to show some stamina with another $2.3 million on Friady. It now stands at $118.2 million overall; not too shabby for a film that only cost $37 million to produce.
The latino hit sensation Instructions Not Included landed in fourth place with $1.64 million from only 717 screens. To date the film has earned $13.85 million and continues to pull crowds as distributor Lionsgate slowly expands the theater count.
Last week's champ One Direction: This Is Us proved that all the band's fans rushed out to see the documentary film during its opening weekend. With only $1.16 million on Friday, the only direction One Direction is headed is quickly out of theaters and off to home video.
Stop back tomorrow to see if Vin Diesel's Riddick had enough pull to reach $20 million, and whether Instructions Not Included was able to crack the top three.