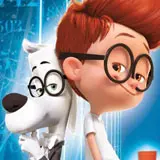 Dreamworks/Fox's animated hit Mr. Peabody and Sherman had enough of a strong hold to move up from second to first place this weekend at the North American box office. The animated duo held off the lukewarm debut of another Dreamworks production, Need For Speed, which sputtered its way into third place behind last week's champ 300: Rise of an Empire. Tyler Perry's latest film, Single Mom's Club was a dud right out of the gate, while Fox Searchlight's The Grand Budapest Hotel expanded in its second weekend to great results.
Once again being the only game in town for families, Fox/Dreamworks' Mr. Peabody and Sherman had a solid second weekend at the box office, dropping a slim 34% to deliver $21.2 million on 3,951 screens. The second weekend drop was smaller than fellow Dreamworks features released in March, The Croods and How to Train Your Dragon. The hold suggests that while Peabody may have started a bit slow, it may have the legs to become a good-sized hit for the studios. While it won't reach the $187 million earned by The Croods last year or the $217 million brought in by Dragon, the film could reach $105-110 million by the end of its domestic run.
After a $45 million debut last weekend, 300: Rise of an Empire descended to second place with a $19.1 million haul on 3,490 screens. Off 57%, the sequel has earned $78.3 million thus far domestically and could reach the $110 million mark by the end of its run with substantially more coming in from overseas markets.
Thought by many to claim pole position at the box office this weekend was the number three film, Need for Speed. Starring Aaron Paul of Breaking Bad fame, the $66 million Disney/Dreamworks production opened well enough on Friday to claim the number one spot but found itself losing speed as the weekend progressed; a sure sign that if people want their fast car fix they will watch a Fast and Furious installment instead. Bad reviews didn't help the film much either. On 3,115 screens, Need For Speed earned a mediocre $17.8 million. While the movie may stall in North America, overseas is looking more promising for turning a profit. The weekend haul from foreign markets was $45.6 million, of which $21.2 million came from China.
Fourth place went to the Liam Neeson airline thriller, Non-Stop. The Universal hit eased only 33% from last weekend to earn an estimated $10.6 million on 3,183 screens. After three weeks, the movie has earned a solid $69 million and could wind up its run between $80-85 million. Foreign markets have contributed $20 million thus far.
Rounding out the top five with one of his worst openings to date was the latest Tyler Perry feature, Tyler Perry's The Single Moms Club, with a dismal $8.3 million from 1,896 screens. As is the norm with a Tyler Perry feature, Moms wasn't screened in advance for critics. But the 18 that did manage to see and review the feature didn't care for what they saw. They gave the film a dismal 22% approval rating on Rotten Tomatoes. Perhaps Perry should see if he can reprise his Starfleet Academy character for the next Star Trek film.
After earning over $800,000 from just four screens last weekend, Fox Searchlight expanded the latest Wes Anderson film The Grand Budapest Hotel to 66 screens this weekend and the results were nothing short of spectacular. The movie earned an estimated $3.6 million from that small amount of screens for a great per screen average of $55,152, which was good enough for eighth place. To date the movie has earned $4.7 million.
Kristen Bell found herself in not one but two movies in the top ten this weekend. Disney's Frozen, which has now spent over four months in the top ten, landed in ninth place with $2.1 million on 1,466 screens. Off 28%, the smash hit has earned $396.3 million domestically and $630 million overseas for a grand global total of $1.028 billion. The movie should cross the $400 million mark before ending its amazing theatrical run (the movie hits Blu-ray and DVD this Tuesday).
Bell also had the number 10 film in the country, the big-screen version of her hit TV series Veronica Mars. The $6 million Warner Brothers feature was largely funded by fans on Kickstarter and is also available on Video on Demand and streaming services at the same time it opened in 291 theaters. The theatrical result was a little over $2 million dollars. How much more the movie will make past that is still up in the air as half of the $2 million was earned in the film's first day of release, followed by a 39% drop on Saturday.
The remainder of the top ten is as follows:
6. The LEGO Movie (Warner) $7.7 million (-29%); $237 million
7. Son of God (Fox) $5.4 million (-48%); $50.8 million
Next weekend sees the arrival of Divergent and Muppets Most Wanted, both of which will leave this weekend's crop of films in the dust. Divergent should win the weekend and could put up numbers north of $50 million.