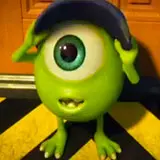 Monsters University didn't scare off moviegoers on Friday as it drummed up big business on its opening day for Pixar and Disney. World War Z starring and co-produced by Brad Pitt was solid in second place, while Man of Steel dropped to third after dominating the box office last weekend.
Kids, families and Pixar fans alike flocked to 4,004 theaters on Friday and helped Monsters University, the prequel to Monsters, Inc., scare up $30.5 million through its first 24 hours of release. Mike and Sulley's college years are pacing for an opening weekend somewhere in the range of $80 million, well beyond the $62.6 million Monsters, Inc. debuted to, though the original did not have the benefit of 3D ticket prices to help inflate box office business.
Read our Monsters University review.
World War Z didn't cause a stampede to theaters on Friday for genre fans, but a decent $25 million worth of tickets sold which should propel the film to around $60 million through Sunday. International business for World War Z will be extremely important as the film's estimated $200 million or more production budget won't be made up for solely at the North American box office, despite the film registering a decent "B+" CinemaScore. Early international business on Thursday accounted for $5.7 million in business so it is off to a good start.
Man of Steel starring Henry Cavill as Superman felt the effects of competition at the box office as it dropped to third place with $12.7 million. The latest DC Comics big-screen adventure is on pace for a $40 million or more opening weekend and will pass $200 million domestically by Sunday.
This Is The End landed in fourth plave with $4.1 million on Friday. The Seth Rogen comedy now stands at $48.9 million and will easily march across $50 million this weekend.
Wrapping the top five was Summit's Now You See Me with $2.5 million. The magician caper flick has reached $89 million to date and continues a slow and steady pace toward the $100 million mark.
Stop back tomorrow to see if Monsters University was able to top $80 million and whether World War Z swatted away enough zombies to surpass $60 million.