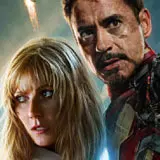 Marvel's superhero hit sequel Iron Man 3 starring Robert Downey Jr. remained atop the North American box office for the second straight weekend. It held off an unexpectedly big opening for Baz Luhrmann's The Great Gatsby starring Leonardo DiCaprio, which easily secured second place. Despite the strength of the top two films, business found itself five percent below last year at this time when Marvel's The Avengers soared to $103 million in its second weekend of release.
Following the second biggest opening of all time, Iron Man 3 cooled off an understandable 58 percent in its sophomore session to earn a still-spectacular $72.5 million for a ten-day domestic total of $284.8 million. Combined with an overseas total of $664 million, the third Tony Stark adventure has taken in an amazing $949 million and should zip by the one billion dollar mark within the next few days.
Leading the financial charge overseas is China, which has contributed $95 million on its own thus far. The film will have no problem working its way into the top ten all time worldwide box office champs when all is said and done. The question is just exactly how far up on that exclusive list it will go. Domestically, the Shane Black-directed hit should wind down its run somewhere near the $425 million mark, which would be a healthy 35 percent higher than the 2010 entry in the series.
Debuting in second place with a great $51.1 million from 3,535 screens was Warner's new take on the F. Scott Fitzgerald literary classic The Great Gatsby. Directed by Baz Luhrmann (Moulin Rouge!) and starring Leonardo DiCaprio, Carey Mulligan and Tobey Maguire, the 3D-period piece drama was marketed toward females as counter-programming to the effects-heavy event pics like Iron Man 3 and the upcoming Star Trek Into Darkness. The film was also delayed six months to allow Luhrmann more time to work on the film and for Warner to build up buzz.
It appears that the wait was worth it, for at least the studio. Critical notices were mixed at best (48 percent approval on Rotten Tomatoes), but audiences seemed to enjoy what they saw and gave the movie a "B" rating on CinemaScore. With no new films on the horizon marketed almost exclusively towards women, Gatsby should have a nice healthy run ahead of it both domestically and overseas. The film begins its international run this upcoming week when it opens the Cannes Film Festival.
The remainder of the top ten once again was a case of older films picking up whatever remaining dollars they can make before the summer movie season really kicks in. Third place went to Michael Bay's crime comedy Pain & Gain. The Paramount release eased 33 percent in its third weekend to earn an estimated $5 million from 3,303 theaters to bring its total to $41.6 million.
In fourth place was the weekend's other wide debut, the Lionsgate comedy Peeples. "Presented" by Tyler Perry, who neither wrote nor directed the feature, Peeples crashed and burned right out of the gate. Reviews were largely negative (38% RT approval) and ticket buyers were far more interested in hanging out with Stark and Gatsby instead. The $15 million production opened on 2,041 screens and managed to muster only $4.85 million in its first three days.
Rounding out the top five was Warner's baseball hit 42 with an estimated gross of $4.6 million. Easing a mere 23 percent, the Jackie Robinson feature has earned a great $84.7 million after five weeks and could inch its way to the $95 million mark before heading to home video.
The remainder of the top ten is as follows:
6. Oblivion (Universal) $3.8 million (-31%); $81.6 million
7. The Croods (Fox/Dreamworks) $3.6 million (-14%); $173.2 million
8. The Big Wedding (Lionsgate) $2.5 million (-35%); $18.2 million
9. Mud (Roadside Attractions) $2.3 million (+8.4%); $8.3 million
10. Oz the Great and Powerful (Disney) $802,000 (-62%); $230 million
Paramount debuts the much-anticipated Star Trek Into Darkness this upcoming Thursday in hopes of overtaking Iron Man 3, which it should with somewhere in the neighborhood of an $80 million bow based on current tracking.
– Shawn Fitzgerald