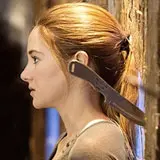 Fans of the young adult novel Divergent turn out in droves on Friday to see the big screen adaptation from Summit and Lionsgate Entertainment. Comparisons to The Hunger Games may end up shifting to Twilight based on the trajectory of opening weekend estimates, while The Muppets Most Wanted took a step backward for the franchise.
Divergent quickly tallied $4.9 million in business from midnight screenings on Thursday night for a fast start out the gate. Current Friday studio estimates place its total at $22.8 million, a far cry from the $67.3 million The Hunger Games and $36 million Twilight drew their opening day of release, but still far better than any other attempt at adapting a young adult novel for the silver screen.
Where The Hunger Games crossed demographics and attracted moviegoers outside its target audience, Divergent is starting to trend more toward the Twilight path that enthralled the many fans of the books but that was about it. Weekend estimates reached as high as $55 to $60 million a couple days ago, but as Saturday early numbers are starting to trickle in, $55 million is a stretch number and something lower is closer to reality.
Disney's Muppets Most Wanted wasn't terribly wanted by moviegoers as it scored $4.7 million Friday and is tracking for an opening weekend around $15 million. The previous Muppets movie earned $6.5 million its opening day.
God's Not Dead surprised in its debut with $2.8 million, good enough for third place Friday. The Christian drama should surpass $6 million through Sunday.
Mr. Peabody & Sherman finally took a big turn south and earned $2.7 million Friday, bringing its total to $72 million. 300: Rise of an Empire landed in fifth with $2.4 million to raise its total to $87.5 million.
Stop back tomorrow to see if Divergent wrapped Sunday closer to $55 million or $50 million. If the latter then its descent down the box office charts will be swift and merciless.