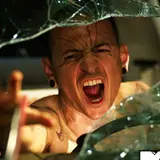 It's Halloween weekend for our new round of the Box Office Prophet Game where you are given the opportunity to make your best box office predictions.
The one lone newcomer this weekend (not counting The Girl Who Kicked The Hornet's Nest in limited release), Saw 3D, has its sights set on Paramount's new juggernaut, Paranormal Activity 2. Can gore and guts successfully chase possessions and jump scares from the top spot? Your objective is to predict what these two horror films along with Jackass 3D, Red and Clint Eastwood's Hereafter will make at the box office this weekend from Friday, October 29 through Sunday, October 31. Your predictions will be averaged in with the other players to go up against The Prophet predictions (visible below after your predictions are entered). Should the average player differences between the actual box office gross and predicted grosses beat the Prophet for 3 or more of the 5 films, the top player will win The Rocky Horror Picture Show on Blu-ray Disc.
If the Prophet comes out on top and at least 50 players enter the game, then this prize will roll into the next round and be joined by another. If 50 players aren't met then the prize rolls without a new addition. Either way the top player finisher will take home a consolation DVD.
Once you are successfully logged in, the average player scores will update in real time below as new predictions are entered. The entry period will close at 9pm PST Thursday, October 28, with this round's results being published sometime Monday in our box office actuals report. Good luck, and Happy Halloween!