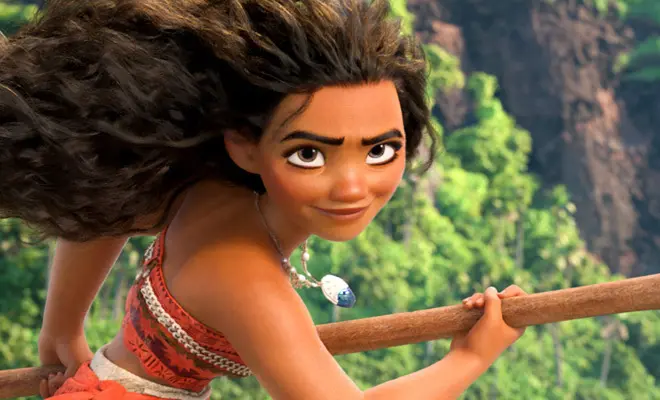 Keeping expectations in check for a film like Disney Animation's Moana with its 95 percent approval rating at Rotten Tomatoes, multiple Academy Award nominations, The Little Mermaid's directorial team (John Musker and Ron Clements) at the helm, showbiz's hardest worker Dwayne Johnson starring and musical wonder Lin-Manual Miranda as part of a amazing soundtrack team would be hard but not impossible. Yet failed I did when experiencing Moana for the first time on Blu-ray 3D as my lofty expectations were met before 'We Know The Way' blew me away.
If Moana were made during the 1990s in 2D animation it would fit right in alongside The Lion King, Aladdin and Beauty and the Beast. Its appeal defies demographic segmenting; its humor hits all the right chords; its animation is second-to-none; four songs in particular stick in your head; and its faithful, tasteful portrayal of Polynesian culture will probably single–handedly boost tourism in the Samoan Islands.
At the heart of Moana is lovely newcomer Auli'i Cravalho whose first cinematic acting role required her to sing, show amazing emotional range as a young woman coming of age under critical pressure and hold her own against The Rock himself, Dwayne Johnson. She passes every daunting test with seeming ease and carries a journey toward self-discovery on her shoulders.
Johnson continues to prove he can handle anything thrown at him including a song number of his own written by Miranda. Yes, that's really Dwayne Johnson singing 'You're Welcome' and he does a bang up job selling a demigod as both likable and generally untrustworthy at the same time.
Disney knows the way to put together a definitive home video release on the first pass and they've done just that with the Blu-ray 3D combo pack version of Moana. All that's missing is a 4K Ultra HD version and we'll likely have to wait a few years for that.
I could stare at Moana's turquoise waters and vast oceans all day long. The lush greenery and vibrant color palette pops in high definition whether you're watching the depth-tastic 3D or equally vibrant 2D version. Even when Moana dips into the monster realm there's amazing visuals in the domain of Tortura, a glitter-obsessed crab villain covered in treasure and brilliantly played by Jermaine Clement. His David Bowie-inspired song 'Shiny' now plays in my head every time I hear the word.
Moana's 7.1 DTS-HD Master Audio mix isn't overwhelming or will blow you away. It does clearly power the important music off the screen with subtle balance through all the speakers and that's frankly its most important role.
The feature film is reason enough to own Moana before delving into the fantastic suite of bonus features. None of the film's stars including Johnson or Miranda shied away from being on camera behind-the-scenes. These are the types of extras you'll not want to stop flipping through until each and every one of them has been watched.
Even the guys behind crazy new software that animates every character's hair get their due on camera. How often does that happen?
Here's the full list of extras:
Theatrical Short Film: "Inner Workings"
Maui Mini-Movie: "Gone Fishing" – a very short new short that plays for laughs
Voice of the Islands
Things You Didn't Know About..

Meet the stars of "Moana"

Meet the musical team behind "Moana"

Island Fashion
They Know the Way: Making the Music of "Moana"
Fishing for Easter Eggs
The Elements of..
Deleted Song: "Warrior Face"
Deleted Scenes
Education of Moana
Music Video: "How Far I'll Go" – Performed by Alessia Cara.
"How Far I'll Go Around the World" – Multi-language reel of the song "How Far I'll Go."
Audio Commentary with directors Ron and John.
If 9.5 out of 10 people love Moana then I feel 100 percent confident in recommending 9.5 out of 10 people should own Moana on Blu-ray 3D or Blu-ray. Disney Animation's latest ranks among the studios best and the home video release matches that effort.
Moana was released on Blu-ray 3D and Blu-ray on March 7th, 2017.
TheHDRoom may be paid a small commission for any services or products ordered through select links on this page.