'Marrowbone' 4K UHD Review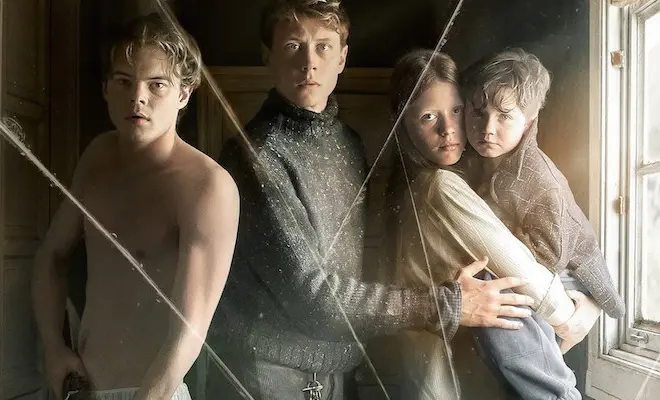 Magnolia dips their toes into the 4K Ultra HD arena with The Orphanage writer Sergio G. Sánchez's directorial debut Marrowbone, a Best Buy exclusive. Their efforts range from admirable to excellent while the film tiptoes about seemingly without purpose before jumping up and down for attention in the final act.
Firing up Marrowbone and expecting another modern horror classic like The Orphanage is a grave mistake. The former doesn't play solely within the horror genre despite a jump scare or creep thrill sprinkled about. It meanders through an uneasy family drama with a tangential love and ghost story always on the periphery, peeking out for a brief change of pace.
Actors George MacKay, Charlie Heaton, Mia Goth and youngster Matthew Stag play the Marrowbone family, ushered to a U.S. coastal town from England by their mother to escape their violent father. Within minutes of the opening their mother dies, there's a gunshot through a window by a mysterious figure, and time jumps forward six months.
There's little character development for Heaton, Goth and Stag despite each doing a lot to portray emotion without speaking with what little material they're given. MacKay is the standout as he struggles to keep his family together per their dying mom's wishes, while Anya Taylor-Joy is a little more cardboard than she's shown in other films like Split — yet pulls through in her character's most emotional moments as the family's only outside friend.
A late Shyamalan-like twist changes one's perception of Marrowbone from the opening frame and stimulates almost enough desire to revisit the hour-plus worth of slow burn that precedes it to search for hints, but not quite enough.
I have to tip my hat to Sánchez for the wonderful look he's managed for his first time behind the camera. Though the film is set in 1969 and was shot in Spain, it feels older with intentionally soft colors throughout. Even the brightest scenes out in the open sunlight, the only scenes that take advantage of inclusive HDR10 to rise well above the Blu-ray, are soft and aged in appearance. The look and settings he's created surprisingly exceed the script he's crafted.
Speaking of surprises, Dolby Atmos is a welcome one from Magnolia for their inaugural 4k UHD release. As it turns out Atmos inclusion is completely warranted.
There are many moments where dialogue or strange noises emerge from different directions and they sound fantastic. The introduction of Anya Taylor-Joy's character at a strange rock formation is especially sharp with directional audio that pivots as the camera changes its point-of-view.
Bonus features are marginal at best with some forgettable deleted/extended scenes, a longer behind-the-scenes featurette that is moderately interesting with too much back patting, and a visual effects piece that is also addressed during the longer featurette.
It's hard to place Marrowbone in a catalog when it struggles to find a consistent voice. I hesitate to label it a horror film as those elements are few and far between. They do take place during climatic moments, and it's certainly not a straight-up drama, so a horror-drama hybrid is more appropriate.
The twist, despite its familiarity, ultimately saves Marrowbone from losing what little steam is mustered through the first two acts. For that it's worth a watch and the 4K UHD presentation is the best available.
TheHDRoom may be paid a small commission for any services or products ordered through select links on this page.