'Ex Machina' 4K Blu-ray Review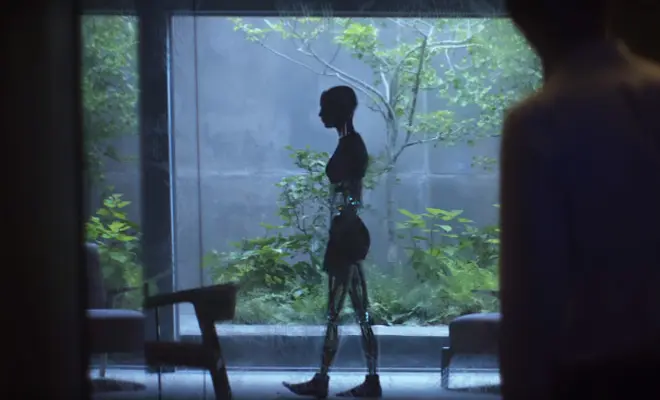 There are no shortage of films that explore the complex world of artificial intelligence. I can think of none in recent memory that captivates and lingers on the brain more than Alex Garland's directorial debut, Ex Machina. It's a must-own film for anyone who favors substance over style, though there's plenty of the latter that mildly benefits from a 4K Ultra HD Blu-ray.
Ex Machina is a slow and deliberate tale through the human psyche that takes its time unfolding. My wife couldn't handle the pace and bailed within the first 10 minutes. That's her loss as she would have enjoyed how where the narrative went next.
The story is straightforward enough with a employee, Caleb (Domhnall Gleeson) being whisked away to his reclusive CEO's (Oscar Isaac) home in the woods. Once there, completely cut off from the outside world and required to sign an NDA, Caleb and the audience discover that he's the participant in a study of artificial intelligence.
From here, Ex Machina is entirely unpredictable and utterly fascinating to watch. Caleb's AI subject, Ava (Alicia Vikander), is deliberately designed to make men's hearts race. Her demeanor and controlled interactions with Caleb raise all sorts of questions. Is she seductive or a femme fatale? What's going on in her head? Caleb wants to know. The audience really wants to know.
All the while Ava's creator ushers the experiment on, goading Caleb into increasingly challenging interactions with Ava. The more the two connect, the more each of their lives propel toward an ending I never saw coming.
There are modern blockbusters that spend one hundred million dollars more than was spent on Ex Machina and don't look half as polished. The visual effects bringing Ava's internal robotic body to life are lifelike. Everything about the host's home and the contrast between its green exteriors and cold interiors are brilliantly filmed without any sense of "artificial" effects.
Early 4K UHD Blu-ray adopters who don't own Ex Machina yet should absolutely pick up this new release. Ex Machina Blu-ray owners unfortunately won't find any mind-bending improvements with the 4K transfer or any new bonus features.
What they will find are improved black levels, especially in the tight, enclosed spaces of the CEO's house. They aren't the inkiest blacks the format has produced to date, but they are a step up from the Blu-ray.
There's a soft, film-like quality to Garland's movie preserved in 4K. That means no big jump in color brightness as the result of HDR seen in other super high contrast films; just a clean looking movie that feels like a hundred million bucks.
The stellar DTS:X audio mix comes straight from the Blu-ray and is a neat roller coaster ride through peaceful calm and chaotic madness. Again, Ex Machina is far from an action film so surrounds and the bass slip into hibernation from time to time. When the mix is on it's spot on musical and effects heaven that sends sounds to precisely in the room where they belong.
Here's the trio of bonus features found on the Blu-ray Disc well worth a watch at roughly two hours in length:
"Through the Looking Glass: Creating Ex Machina" 5-Part Featurette
SXSW Q&A with Cast and Crew
Eight Behind-the-Scenes Vignettes
If you're a big fan of Ex Machina like I am and already own the Blu-ray then by all means upgrade to the 4K version just so you have the best. However, if you already own the Blu-ray and are on the fence, the subtle video upgrades that 4K offers won't knock your socks off. If your wallet grants permission then what the heck; you can't go wrong and will score a Digital HD version as well.
Ex Machina on 4K Ultra HD Blu-ray was released June 6th, 2017 and is currently available to purchase at Amazon.
TheHDRoom may be paid a small commission for any services or products ordered through select links on this page.