'Doctor Strange' Blu-ray 3D Review
Before Stephen Strange came along, the Marvel Cinematic Universe's (MCU) heroes have been powered by technology, biology, chemical reactions, super serums, genetically-imprinted magic and mysterious godlike galactic forces.
Doctor Strange changes the game by delving into the mystical side of the Marvel universe where sorcery reigns supreme. The film's mind-bending and Academy Award-nominated visual effects that pop in 3D are only part of why Doctor Strange is the freshest MCU entry since James Gunn's Guardians of the Galaxy.
We haven't seen a character like Stephen Strange (Benedict Cumberbatch) in the MCU yet. Unlike Tony Stark whose also a genius in his field and carries himself with an overabundance of arrogance, Cumberbatch's Strange exudes high intelligence where Stark's intellect is overshadowed by his cocky wit.
If Cumberbatch's Strange feels new then the visuals and plot of the film are out of this world while staying mostly on it. The abilities to bend shapes and time that The Ancient One (Tilda Swinton) teaches Strange are introduced early on as an appetizer to the main event later on. Pondering and discussing what they mean for the greater MCU after the credits roll is half the fun.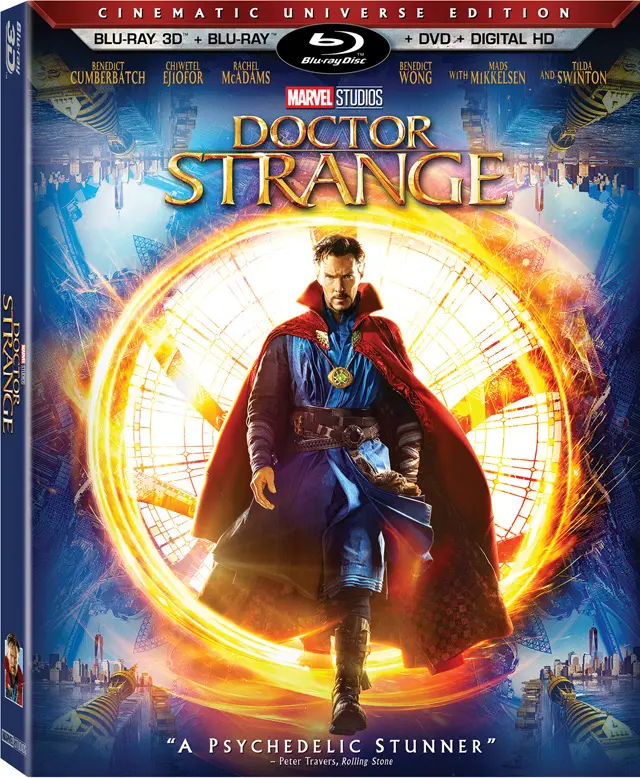 With some much time spent on Strange's back story and rise to power, not enough is awarded to the motivations of Kaecilius (Mads Mikkelsen) whose turn from good to evil is scantly touched upon.
The Blu-ray 3D edition of Doctor Strange is a loaded package in every way. It's packed with the traditional Blu-ray, DVD and Digital HD versions, leaving only the 4K format that Disney has yet to adopt off the table.
I tend to lean skeptical on films converted post-production for 3D but Doctor Strange puts those fears to rest. The immense sequences were city streets and blocks fold onto one another while debris flies everywhere provide excellent layering in 3D demanding multiple views. I detected no noticeable ghosting and only slight color and hue deterioration compared to the 2D version.
A 7.1 DTS-HD Master Audio treatment lives up to any expectations placed upon it. The mix is loud yet not overbearing, crackling with channel separation through small action scenes like Strange's car accident and large ones like the final battle.
I love the selection of bonus feature Marvel has included from the humor of Team Thor 2 to the sneak peek at what lies ahead in the MCU including first looks at Black Panther and Thor: Ragnorak. Any questions about how the visual effects were created are answered while five deleted scenes offer a little extra footage.
A Strange Transformation – Open your eye to a new dimension of the Marvel Cinematic Universe, and see how the filmmakers brought one of comic books' greatest characters to life.
Strange Company – Find out what it's like for the cast to work on a Marvel film, and how Director Scott Derrickson engineered one of the most ambitious, imaginative films ever.
The Fabric of Reality – Take a closer look at the movie's extraordinary sets, meticulously crafted costumes and amazingly detailed production elements.
Across Time and Space – Explore the countless hours of dance and fight choreography the actors endured in preparation for their physically demanding roles.
The Score-cerer Supreme – Join Composer Michael Giacchino and a full orchestra during live recording sessions, and experience the movie's mind-bending music.
Marvel Studios Phase 3 Exclusive Look – Get an early peek at Marvel's spectacular upcoming films, including Marvel Studios' Guardians of the Galaxy Vol. 2, Thor: Ragnarok, Black Panther and Avengers: Infinity War.
Team Thor: Part 2 – See more of the hilarious partnership between Thor and his roommate Darryl in this satirical short.
Deleted Scenes
Doctor Strange represents the types of new frontier movies Marvel needs in its Cinematic Universe as we move through Phase 3 and beyond. The acting, especially from Benedict Cumberbatch, is solid for a comic book film, and the 3D presentation is worth owning for 3D adopters. I highly recommend it for even those who don't currently own a massive collection of Marvel films.
The Doctor Strange Blu-ray 3D combo pack release date is February 28th, 2017.
TheHDRoom may be paid a small commission for any services or products ordered through select links on this page.