'Die Hard' 4K UHD Blu-ray Review
I have a soft spot for the guy whose partial to Roy Rogers. Die Hard, a film I blindly attended a sneak preview for back in 1988, is a big reason why I'm still enamored with films today. When a new home video version rolls out, especially one promising a bump in quality over all those numerous versions before it, I perk up and get excited.
Sometimes that joyous anticipation is met with disappointment. Not so with the new Die Hard 4K Ultra HD Blu-ray release in celebration of the film's 30th anniversary. This is Die Hard as it is meant to be seen, but not necessarily how it is meant to be heard.
For me, Die Hard is the ultimate Christmas film to put on after the kids are tucked in bed. It's also the ultimate "one man versus many terrorists" film, the ultimate "building seize film", best use of Beethoven's 'Ode to Joy' in a film, Bruce Willis' best character and performance, best movie limo driver in Argyle; the list goes on and on.
Die Hard kick-started the modern action movie movement with many films attempting to recapture its magic since. While some have found success in their own right, there is not and never will be another hero like John McClane or villain like Hans Gruber.
Fox recently put Die Hard through a 4K remastering process and this 4K UHD disc is the recipient of that effort. If you've seen Die Hard as many times as I have, you'll know that the film's dimly lit cinematography has never been a showcase for videophiles. It still isn't compared to modern films, but the difference between the Blu-ray and 4K transfer deserve a standing ovation.
The 4K visuals progress and improve throughout the film like a fine wine. There's added depth, clearer detail, and stronger contrast; all while maintaining that gritty film-like look associated with the film. Once the explosions, lens flares, under construction floor and other brighter scenes arrive, it's immediately clear that HDR is doing its job.
Sadly the audio track on the Die Hard 4K UHD disc is the same 5.1 DTS-HD Master Audio mix we've already heard. I, and I'm sure all of you, were hoping for a new Dolby Atmos for DTS:X mix. As such, the aural effects and sonic booms sound especially dated against the new transfer. Maybe Fox is holding out on investing in the audio until the 35th anniversary.
Typically new anniversary releases include a new bonus feature or two. Not so for Die Hard as everything offered on the inclusive Blu-ray Disc, which also benefits from the new 4K transfer, has been previously released. I'll gladly take the improved transfer over a new featurette.
Commentary by Director John McTiernan and Production Designer Jackson DeGovia
Scene-Specific Commentary by Special Effects Supervisor Richard Edlund
Subtitle Commentary by Various Cast and Crew
The News Casts Featurette
Interactive Style Gallery
Interactive Articles from Cinefex and American Cinematographer
Full-Length Screenplay
Trailers & TV Spots
There are a lot of strong catalog titles joining the 4K Ultra HD Blu-ray lineup in the early part of this summer. Make sure Die Hard isn't forgotten on your to-buy list. Unless you despise John McClane's first adventure of many, you don't want to pass up on the best this legitimate classic has ever looked.
Shop for Die Hard on 4K Ultra HD Blu-ray combo for a discounted price at Amazon.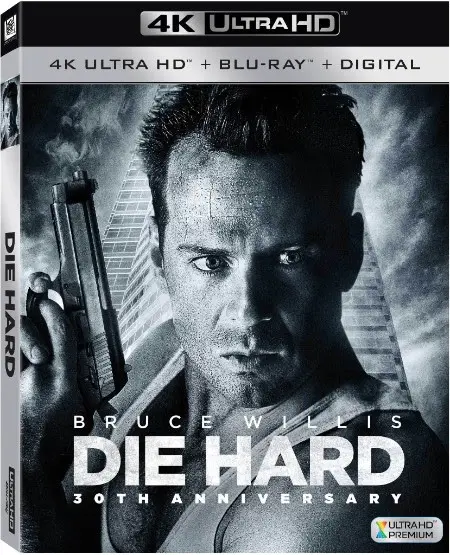 TheHDRoom may be paid a small commission for any services or products ordered through select links on this page.