'DC's Legends of Tomorrow' Season 2 Blu-ray Review
DC's Legends of Tomorrow is the science fiction galaxy in The CW's Arrowverse. Where deeply flawed superheroes partake in time-bending misadventures. Also where the first season showed promise at times, but lacked a strong overarching narrative to hold it together.
With DC's Legends of Tomorrow Season 2, series creators Greg Berlanti, Marc Guggenheim and Andrew Kreisberg took a radical approach by sidelining the Legends' captain, Rip Hunter, not long after the demise of Captain Cold in an unexpected act of sacrifice. This forced the Legends team to regroup, embrace two new members in Nate and Amaya, stand behind a new leader, and further respect the past by meeting the superhero forefathers: the Justice Society of America.
What the Legends needed most in Season 2 was a true foil and not a repetitive one-note threat like Vandal Savage was. Or two. Or three. Watching Reverse Flash and former League of Assassins members Damian Darhk and Malcolm Merlin trade jabs with one another as the Legion of Doom could be the foundation of yet another Arrowverse spinoff. Their on-screen chemistry is palpable, and their presence and banter lifts the show in unexpected ways.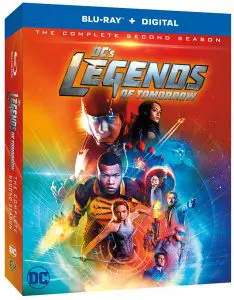 At its core, DC's Legends of Tomorrow remains the cheesiest of the Arrowverse shows with Ray Palmer serving up the biggest slices. If The Flash Season 3 turned a little dark for some viewers, watching Ray try to live out his childhood fantasy of becoming a Knight of the Round Table while yielding a knockoff lightsaber should lift anyone's spirits.
One of the greatest new aspects of the expanded Arrowverse are its four-part crossover events between Legends, Arrow, The Flash and Supergirl. On the DC's Legends of Tomorrow Season 2 Blu-ray, and the other series as well, the designated crossover episode feels lost if watching Legends chronologically without the other crossover episodes.
A quarter of bonus features are packed into DC's Legends of Tomorrow Season 2 on Blu-ray, including a sneak peek into the crossover event. I highly recommend the Gag Reel as this cast knows how to have fun when oftentimes wearing ridiculous costumes. There aren't any hints beyond the closing shot of where Season 3 is headed, but it will arrive soon enough.
DC's Legends of 

Tomorrow

: 2016 Comic-Con Panel
Allied: The Invasion Complex (DC's Legends of 

Tomorrow

)
Deleted Scenes
Gag-Reel
The Arrowverse is designed to fit together like a puzzle and DC's Legends of Tomorrow Season 2 strengthened that bond by introducing the Legion of Doom. If you bailed on Season 1 or rode out the storm for the sake of completion, be sure to give Season 2 a try. The Legion of Doom and newly focused Legends have put this ship back on course.
DC's Legends of Tomorrow Season 2 on Blu-ray is available August 15th, 2017 and available to purchase at Amazon.
TheHDRoom may be paid a small commission for any services or products ordered through select links on this page.