'Archenemy' Blu-ray Review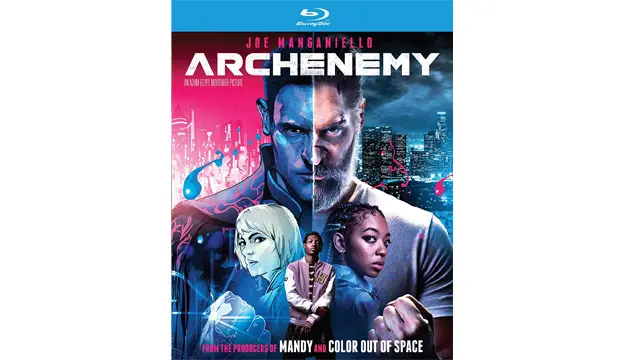 The superhero trope of someone seemingly not worthy discovering they are more than worthy to wield superhuman powers and fight evil is completely absent from Archenemy starring Joe Manganiello and written/directed by Adam Egypt Mortimer . Rather the film cleverly rips away a superhero's powers and forces him to face mortality in another dimension.
You won't find big budget CGI battles as Joe's Max First, having fallen through a black hole and landing on earth minus his superpowers, initially unsuccessfully navigates his new reality. He turns to the bottle and becomes a street junkie in a nod to Hancock.
Only through a reporter aptly named Hamster, the only person that believe's Max's superhero from another dimension story, does a path to redemption appear. Hamster and his sister have enemies and it provides Max an outlet to prove he can still be heroic without his powers.
There's a raw grittiness to Archenemy that's reminiscent of how Marvel and Netflix handled the Defenders shows. Only in Max's stories superpowers are a memory from the past, not a tool for the present.
Max's past, including the battle with a mysterious villain that sent him to our Earth, is effectively intertwined with the main story using vibrant, neon colors. The jump from those flashy animated flashbacks to the bleak grays of Max's new home are effectively jarring to drive home the point of how out of his element Max is.
Archenemy does have a tendency to drag at times. After all, the expectation in any superhero film — even one deconstructing the genre — is to fully enjoy the ride.
There are some great action sequences including a brutal beat down of multiple thugs where Max lets loose. The promise for a grand finale falls a little short; either by design or by budgetary constraints.
The visual contrast between Earth and Max's animated home is wonderfully managed by this Blu-ray transfer. In fact, I'm quite surprised it didn't receive a 4K Ultra HD release as those animated bits would really pop in a higher resolution.
Likewise the 5.1 DTS-HD Master Audio brings the base whenever the action ramps up. It's a clean mix with no discernible issues.
A lone bonus feature, Making Of Archenemy, provides a few cast interviews and that's about it.
It's hard to completely gush over Archenemy but there's more than enough in Max's story to like and surprisingly a nice little world with more room to explore. Hopefully some day that further exploration will manifest itself in a sequel.
TheHDRoom may be paid a small commission for any services or products ordered through select links on this page.