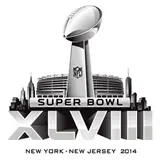 The Denver Broncos and Seattle Seahawks entered the 2014 NFL Playoffs as top seeds in their respective conferences and will now square off today on the big Super Bowl 2014 stage from chilly MetLife Stadium in New Jersey. The official Super Bowl 2014 start time is 6:30pm EST when we watch Seahawks vs Broncos online free live streaming or on TV via Fox Sports.
For Peyton Manning, Super Bowl XLVIII offers an opportunity to further solidify his place as one of the best quarterbacks to ever play in the NFL, if not the best. No quarterback in the history of the NFL has won Super Bowls with two different teams. A win today by Manning and his Broncos will put him into an elite status where he's unlikely to be joined by anyone else anytime soon.
Manning has been to the Super Bowl twice before and tasted the sweetness of victory and sting of defeat. All eyes will be on Manning as he plays in the first outdoor Super Bowl in a cold weather city ever and completes his comeback from a series of neck operations that kept him out of the NFL for an entire year. There were many suitors for Manning's services and ultimately John Elway and the Broncos won them.
In order for Manning to win, he and the number one ranked Broncos in the AFC will have to beat the top ranked NFC team in the Seattle Seahawks. In addition, the Broncos have the NFL's top-ranked offense and most prolific scoring offense of all-time, while the Seahawks put the NFL's top defense on the field that has been known to rattle the opposition with physical play.
It will be tough for the Seahawks defense to keep track of the talent receiving corps of the Broncos that Manning spreads the ball around to. Demaryius Thomas, Eric Decker, Wes Welker and tight end Julius Thomas have all had career years in 2013, while Manning set the single-season record for most touchdown passes. Even running back Knowshon Moreno caught 60 passes for nearly 550 yards, and ran for over 1,000 yards on top of that. Watch Super Bowl 2014 online live free streaming on Fox today to see how many touchdown passes Manning can throw.
Much of the media attention regarding the Seahawks has been aimed at Richard Sherman following his on-camera rant after the NFC Championship against the 49ers. Sherman tipped a pass into the end zone by Colin Kaepernick toward the end of the game that was intercepted, sealing the win for the Seahawks. Ultimately its the entire secondary, known as the "Legion of Boom," that has led to the Seahawks success against the pass.
A key matchup today will be in how Denver's defense, the least talked about unit heading into today's Super Bowl, is able to handle the Seattle ground game led by Marshawn Lynch who tied a career high this season with 12 touchdown runs. Even when the Seahawks call a pass play, quarterback Russell Wilson is always capable of busting off a long run on his own. You won't see Peyton Manning attempting that.
Today's Super Bowl XLVIII between the Denver Broncos and Seattle Seahawks has a start time at 6:30pm EST / 3:30pm PST. The game will be televised over the air on Fox so check your local listings to find out what channel number the Super Bowl is on where you live so you can watch Broncos vs Seahawks in HD on your hopefully giant TV.
Whereas Fox was stingy with their NFL Playoffs coverage in not offering an official free live online stream of those games, they have stepped up and will allow viewers to watch Super Bowl 2014 for free via online streaming here on phones, iPads, tablets, computers or any Internet device. That way whether you have access to a TV or not, you can still watch tonight's Super Bowl 2014 live and not miss any of the Super Bowl commercials, at least the ones that didn't already get premiered online.
My Super Bowl 2014 prediction is that the game will be closely fought and mistakes will be minimal. Ultimately Manning will be able to pick apart the Seahawks secondary just enough to eek out a 27-23 Super Bowl final score and victory.