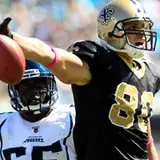 The New Orleans Saints will put their perfect 5-0 record on the line against the usually tough New England Patriots, a team that was also perfect until losing a close game last week. This is the NFL game of the week that everyone on television and online will be vying to watch, and rightfully so.
The biggest story in the NFL last week was not that the Patriots lost their first game of the season in a low scoring affair, but that Tom Brady failed to throw a touchdown pass to break his regular-season streak of 52 consecutive games having done so. To put that mark in perspective, Brady had thrown a touchdown pass in just over three consecutive seasons worth of games. Watch Saints vs Patriots online live streaming on Fox via the link found below.
Unfortunately for Brady, history is not on his side when it comes to going toe-to-toe with Drew Brees. In three previous games against Brees, Brady is a combined 0-3. This game marks Brees first competition against Brady as a member of the Saints, and he will do so with his team's perfect record on the line while playing at the road in a hard stadium to win in.
These Patriots are a far cry from the Brady-led squads of the past. We're used to seeing Brady hook up with Wes Welker countless times per game and leading one of the most prolific offenses in the league. Instead, Welker is off catching countless balls from Peyton Manning while Brady leads a young receiving corps to the 24th worst offense in terms of points per game in the league.
Drew Brees has his own version of Wes Welker to pass to, only his guy is a lot bigger and stronger. Tight end Jimmy Graham has become a top target of Welker and been able to beat cornerbacks both on the outside and on jump balls. He has been virtually unguardable and leads the league in receiving with 593 yards through five games. His six touchdown catches aren't too shabby, either, and the Patriots defense will have a hard time keeping him out of the end zone.
What Tom Brady needs to do is find ways to get the ball in the end zone. Not only did his touchdown pass streak fall last week, but the Patriots failed to score a touchdown in the entire game. They have been moving the ball well between the 20s, but their red zone efficiency has been awful. Brees and the Saints, however, have been celebrating touchdowns regularly since the season began.
Even with a couple of future Hall of Fame quarterbacks at work, defense is where this game will likely be won. The Patriots and Saints have both given up an average of 14 points or fewer per game this season, and both defense have proven to be opportunistic when it comes to turnovers and putting points on the board. We will have to watch for big turnovers that might turn the tide of this game.
Today's Sunday afternoon NFL Football game between the New Orleans Saints and New England Patriots get a late start time of 4:25pm EST / 1:25pm PST. The game will be televised on Fox with the ability to watch online live streaming available via DirecTV with the Max upgrade right here on portable devices and computers.
Online armchair quarterbacks have picked the Saints to come out victorious today. With the way Brady and his offense have struggled I can't blame them. However, I sense an upset and just watch; the Saints will provide a challenge that Brady will rise to and eek out a close win won on the final possession of the game.