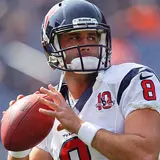 The first NFL Thanksgiving Day game today on CBS gives the national spotlight to the league's best under the radar team, the 9-1 Houston Texans. They will be taking their near perfect record into the Motor City where the 4-6 Detroit Lions have not won a Thanksgiving Day game in nine years. A win will clinch a playoff berth for the Texans, which seems inevitable at this point in the season.
Riding a four game win streak, the Texans are one of the hottest teams this year, bolstered by their league-best defense and prolific offense behind quarterback Matt Schaub and receiver Andre Johnson. Last week in an overtime win against the Jaguars, Schaub tied the second-highest passing performance of all-time with 527 yards, and set a franchise record with five touchdown tosses. The benefactor of many of those passes was Johnson with 14 grabs for 273 yards, the best receiving performance in the league in over a decade.
The concern for the Texans, and glimmer of hope for the Lions, is the typically stingy Texans defense gave up 458 yards of offense to a struggling Jaguars offense being run by backup quarterback Chad Henne. Big plays were part of that huge yard total, something the Texans will need to cut down on today.
The Lions offense averages 401.7 yards per game, second in the league. Last week's flub by the Texans defense should give the Lions offense extra confidence that they can move the ball and put points on the board, as long as they can avoid turning the ball over.
Lions quarterback Matthew Stafford will be looking for Calvin Johnson who grabbed five passes last week for a big 143 total yards. Johnson would normally be lining up against Pro Bowl cornerback Johnathan Joseph, but Joseph left last week's game with a hamstring injury and is questionable to play today.
Those of you not near a television for today's first Thanksgiving Day game between the Houston Texans and Detroit Lions on CBS can watch the official live online streaming option here via NFL Sunday Ticket Max if you're a subscriber. This lets you watch it on a computer, tablet or mobile phone. There is no official free live streaming option for today's games. My prediction is the Lions break the losing streak and pull off an upset in a 27-24 win. Kick off for the first of three Thanksgiving Day games gets underway at 12:30 pm EST. Happy Thanksgiving!