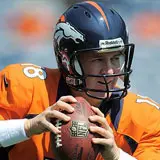 Tonight's NFL Thursday Night Football game on NFL Network features one team playing for home field advantage in the playoffs and another fighting to keep their jobs next season. The 9-3 Denver Broncos have won eight straight games and have already clinched the AFC West title, though they will need to win more games in order to avoid playing on the road in the playoffs. The mirror opposite 3-9 Oakland Raiders are mired in another dreadful season that extends their playoff absence streak to a cool decade and running.
The Broncos' good fortune are due in part to the signing of Peyton Manning during the offseason and the quarterback's quick return to his old form. It can be argued that if Peyton had signed with the Arizona Cardinals instead, it would be the Cardinals looking down at most other teams in the standings. But Peyton chose the Broncos over the Cardinals, Dolphins and 49ers, and have helped push them into a playoff berth.
Arguments for Manning to score the MVP award are starting to mount with each successive win and strong performance. Roughly a year after neck surgery, Manning is second in the league in passer rating and completion percentage. Receiver Demaryius Thomas has benefited most with four touchdowns over the past three games.
The Oakland Raiders are riding a streak of their own. With five losses in a row, they have to avoid their sixth against one of the league's top quarterbacks going up against one of the league worst defenses. The Raiders have coughed up 494 rushing yards over the past three games, and are dead last in the league in giving up an average of 31.3 points per game.
Raiders quarterback Carson Palmer has only been able to lead his team to 44 points over the past three weeks. Under 15 points per game on average won't be enough to stop Manning and the Broncos. Also working against the Raiders tonight is Palmer has not beaten the Broncos in his last four starts against them.
Tonight's Thursday Night Football game between the Denver Broncos and Oakland Raiders will be televised in HD on the NFL Network channel. Those of you with cable access can watch a free live streaming version of the game on your computer, tablet or mobile phone here at the official NFL website. Kickoff for tonight's potential blowout and further case to hand Manning the MVP trophy gets underway at 8:20pm EST. My prediction is the obvious choice: Peyton Manning will toss a minimum of two touchdowns and shine in his latest primetime appearance as the Broncos win easily by a margin of 31-9.