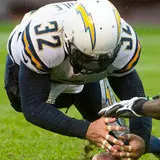 Tonight's NFL Thursday Night Football game on the NFL Network features a pair of struggling AFC West foes in what could be the most least interesting primetime game to hit the airwaves this season. The 3-4 Chargers have lost three in a row including an embarrassing 6-7 defeat at the hands of the then winless Browns last week. The Chiefs have dropped four in a row and are not enjoying their paltry 1-6 record in the least. Someone will snap a losing streak while the other team slides closer toward their head coach's head being on the chopping block.
Last week the Chief lost to the Raiders 16-26 and continued their record-setting season long streak of not holding a lead at any point in the game. Their lone win, an overtime thriller against the Saints, came in overtime. A change-up due to injury may be just what the Chiefs need to take that first baby step toward snapping their slide and grabbing a lead.
Quarterback Brady Quinn was knocked out against the Raiders and will not play tonight versus the Chargers. Cassell, who filled in for Quinn last week and tossed for 218 yards and a pick, gets the nod tonight. Though the change under center is not due to performance, there's a chance Cassell's presence will help ignite his stagnant offense – including struggling running back – Jamaal Charles – and put up some meaningful points.
It's hard to believe the San Diego Chargers were 3-1 not too long ago. They have taken a page out of the Arizona Cardinals playbook and gone cold after a promising start to the season. Last week's loss to the Browns sent up all kinds of red flags that will multiple with a loss tonight.
The Chargers already toppled the Chiefs 37-20 earlier this season on the road, so they stand a good chance of pulling out a victory tonight at home. Quarterback Philip Rivers accumulated 209 passing yards and a pair of touchdowns in that game. He needs that kind of performance and not the season-low 154 yards tallied last week to give his team a chance to win.
All indicators on paper point toward a Chargers win in what could be an extremely sloppy game. Should the Chargers win, they can erase last week's poor loss and refocus their efforts with a .500 record.
You can watch tonight's NFL Thursday Night Football game in HD on the NFL Network, or watch the official online live stream by visiting NFL.com. A free online streaming option is available here, though make sure your anti-virus software is up and running before trying any free streaming source. The San Diego Chargers and Kansas City Chiefs fight to snap their respective losing streaks when tonight's game kicks off at 8:20 EST / 5:20 PST.