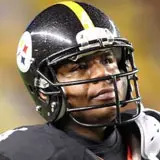 Tonight's NFL Sunday Night Football game on NBC is a huge test for the 6-3 Pittsburgh Steelers. They have a chance to pull even with the 7-2 Baltimore Ravengs in the AFC North. In order to do so, they will have score enough points with their field general watching from the sideline.
Last week, Steelers quarterback Ben Roethlisberger was knocked out the game and will sit tonight with a rib injury. That means Byron Leftwich will be called upon to continue the Steelers impressive four-game win streak that has helped them battle back in the division and knock on the door of the leading Ravens.
Leftwich has not started a game since 2009 and was 0-6 in his previous starts with the Jacksonville Jaquars before then. He subbed for Big Ben last week in relief and went 7-14 for 73 yards, a touchdown and an interception. Leftwich will have the benefit of practicing with the starters all week and should come into tonight's match better prepared.
Aiding Leftwich is the return of Steelers running back Rashard Mendenhall, absent from the past four games due to injury. Mendenhall will team with Isaac Redman and Jonathan Dwyer to give the Steelers three options at running back and many different looks.
The Ravens are surely delighted to see Big Ben on the bench considering the way their defense has played this season, despite their stellar record. They are 27th in the league with 390.2 yards allowed per game. To aid their cause, defensive tackle Haloti Ngata and cornerback Jimmy Smith are set to return from injury and regain their starting roles.
Those of you without television access for tonight's game between the Baltimore Ravens and Pittsburgh Steelers on NBC can watch the official free live online streaming option here. My prediction is the Ravens defense gets back on track with several Leftwich sacks to help win by a 19-13 margin. Tonight's NFL Sunday Night Football game gets underway at 8:20 pm EST.