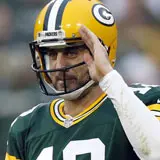 Tonight's NFL Sunday Night football primetime game on NBC features one team fighting for playoff positioning and another one attempting to break a winless streak that spans multiple decades. The clicking 8-4 Green Bay Packers are set to host the free-falling 4-8 Detroit Lions whom have not won a game at Lambeau Field since 1991. Detroit will have to overcome some serious odds to come away victorious.
The Packers can take sole possession of first place in the NFC North after the Chicago Bears lost to the Minnesota Vikings earlier today 21-14. It's been a tough season for Green Bay thus far as they have battled injuries at key positions, but the resilient Packers have fought back and have a legitimate shot at running away with the division.
Quarterback Aaron Rodgers had a fair game in a victory against Minnesota last week, throwing for just under 300 yards and tossing one touchdown versus one interception. He has historically played well against Detroit with a 7-1 lifetime record, but will have to generate offense without the services of injured wide receiver Jordy Nelson.
Detroit is hoping they can follow in the footsteps of other teams that have faced the Packers and put pressure on the often-sacked Rodgers. If Rodgers has time, expect him to pick apart a Lions defense that has coughed up a whopping 69 points over its last two games, and have dropped four straight losses overall.
Despite their losing record, the Lions are a competitive team and have lost several games in the fourth quarter. Matthew Stafford leads the league in passing with 3,742 total yards passing and has thrown four touchdowns in the past two games. If the Lions defense can tighten up then there's a good chance they'll compete again, even on the road at Lambeau with history not on their side.
If you do not have television access for tonight's Sunday Night NFL game between the Detroit Lions and Green Bay Packers on NBC, you can watch the official free live online streaming option here. My prediction is the losing streak continues and the Lions fall to the Packers 28-23. Tonight's NFL Sunday Night Football game between the NFC North leader and last place holder kicks off at 8:20 pm EST / 5:20pm PST.