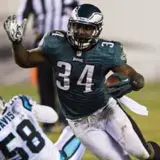 Tonight's NFL Sunday Night football primetime game on NBC features divisional rivals that will most likely be watching the playoffs this year from a couch. The 5-6 Dallas Cowboys are tied for second place in the NFC East, though are a full two games back of the Giants and tied with the Redskins. The 3-8 Philadelphia Eagles have been in red alert for weeks and have forgotten what it feels like to win a game.
A loss by the Eagles tonight would be the team's eighth straight and longest in nearly half a century. Coach Andy Reid has to feel the pressure of his job being in jeopardy, though in Reid's defense, injuries have been a major reason for the downfall. Michael Vick and LeSean McCoy are still out, and DeSean Jackson is out for the year with a rib injury.
Instead the Eagles will be relying on youth to set up and audition for a future role on the team. Quarterback rookie Nick Foles will start again after performing decent over the past few games but falling into a turnover trap. Bryce Brown will be coming off his 178 yard and two touchdown starting debut last week in hopes of racking up more big yards on the ground.
Dallas will need to tighten up their defense after last week's embarrassing home loss to the Redskins in which Robert Griffin III tossed four touchdown passes. The last thing the Cowboys want is for Foles to get comfortable and make some plays. That will definitely open up room for Brown to cause damage on the ground.
Tony Romo will be looking across the field at an Eagles defense that has had issues stopping anyone. Romo should get his 166th touchdown pass tonight which would break a tie with Troy Aikman for the most in franchise history. Look for Dez Bryant to be a favorite target of Romo's tonight and catch for at least 100 yards.
Those of you without television access for tonight's Sunday Night NFL game between the Philadelphia Eagles and Dallas Cowboys on NBC can watch the official free live online streaming option here. My prediction is the Cowboys air attack gives the Eagles nightmares and they escape a close home win by four points. Tonight's NFL Sunday Night Football game between NFC East rivals kicks off at 8:20 pm EST / 5:20pm PST.