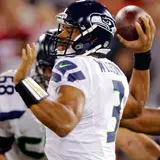 Tonight's NFL Sunday Night football game on NBC exists because the league realized that the 10-3-1 San Francisco 49ers visiting the 9-5 Seattle Seahawks is worthy of a primetime slot. Not only are these two teams battling for the NFC West title, but each features rookie quarterbacks that came out of nowhere to become two of the most talked about names in the entire league.
The 49ers are appearing on Sunday night for the second consecutive week after stunning the New England Patriots in their house last week 41-34. The win clinched at least a wild card spot for the 49ers, but they have their sights set on the division title and possibly a first-round bye if they can win out.
Colin Kaepernick continues to play quarterback for the 49ers with Alex Smith, the team's starting quarterback when the season began, watching from the sidelines. It's hard to imagine Smith will return next season after losing his starting role due to injury and not performance, but he could leave with a Super Bowl ring that proved elusive last year after getting barely knocked out of the playoffs in the NFC Championship Game.
The Seahawks have been riding their rookie phenom Russell Wilson all season after the young gun emerged from training camp with the starting gig despite signing Matt Flynn to a big deal in the offseason. Flynn could be looking for a trade this offseason the same as Smith, and there are plenty of teams in need of a starting quarterback – with first in line being the Arizona Cardinals.
Another big match up tonight will be on the ground with the 49ers looking for Frank Gore to get back over 100 yards in a game and the Seahawks leaning on Marshawn Lynch to continue to carry the load. Two stingy defenses will be going up against two clicking offenses; what more could you ask for?
If you don't have access to a television for tonight's Sunday Night NFL game between the San Francisco 49ers and Seattle Seahawks on NBC, you can watch the official free live online streaming option here. My prediction is the Seahawks home crowd throws Kaepernick off and a close game ends in a home town 20-17 win. Tonight's NFL Sunday Night Football game that could determine the NFC West winner kicks off at 8:20 pm EST / 5:20pm PST.