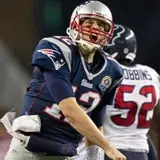 Tonight's NFL Sunday Night football primetime game on NBC features one unlikely rookie starting quarterback facing one of the leagues best who began his career in a similar manner. The 9-3-1 San Francisco 49ers are closing in on clinching the NFC West and will need to win tonight to keep their lead over Seattle, who is running away with their game against the Bills. The Patriots have already clinched their division and look to make a statement against a potential Super Bowl opponent.
Tom Brady is used to all the quarterback chatter directed at him, but tonight his counterpart Colin Kaepernick is the one under the microscope. Since Jim Harbaugh made Kaepernick the starter following an injury to Alex Smith, he has won all but one start including a 27-13 win over the Miami Dolphins last weekend. Kaepernick sprinted down the sideline to score his fifth rushing touchdown of the season in that game to clinch it.
Kaepernick and the visiting 49ers face a daunting challenge in playing the Patriots, in their house, in the month of December. It has been 13 games since the Patriots have lost in the month, and 20 games since they have lost at home in the month. The Patriots have also won three straight against the 49ers.
The flip side is Tom Brady is having an outstanding season as well and must continue it against one of the league's best defenses. Thus far Brady has tossed 29 touchdowns and only four picks, a margin most quarterbacks in the league would do flips for. Last Monday night Brady threw four touchdowns in stomping the Houston Texans 42-14, the same team they are chasing for the AFC title and home field advantage throughout the playoffs.
In the game against the Texans, the Patriots defense held Houston running game Arian Foster to only 46 yards on the ground. Tonight they will have to deal with another strong runner in Frank Gore, second best in the NFL at 161.5 yards per game. Stopping Gore early is one of the big keys to the Patriots coming out on top.
If you can't get in front of a television for tonight's Sunday Night NFL game between the San Francisco 49ers and New England Patriots on NBC, you can watch the official free live online streaming option here. My prediction is the Patriots prove why they are one of the best teams in the league and apply heavy pressure on Colin Kaepernick to escape with a 23-17 win. Tonight's NFL Sunday Night Football game between a pair of the AFC and NFC's best kicks off at 8:20 pm EST / 5:20pm PST.