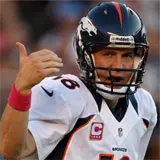 Tonight's NFL Sunday Night Football game on NBC reunites a pair of future Hall of Fame quarterbacks for the first time since Super Bowl XLIV. Peyton Manning returns to the primetime Sunday Night stage in hopes of a better outcome than the Colts fared in that Super Bowl loss. Brees hopes to continue his team's recent success and steady climb out of the cellar after a rough 0-4 start. A live online streaming option for tonight's game is available at the bottom of this post.
Denver comes into tonight's game in sole possession of first place in the AFC West after the San Diego Chargers lost to the Cleveland Browns in a sloppy game. A win would push their record to 4-3 and separate them from the Chargers by a full game.
Though Peyton Manning started out the season slow, he's kicked it into full gear over the past three games in reversing the team's losing record into potentially a winning one. In each of those game, Manning has tossed over 300 yards, thrown three touchdowns, and completed over 70 percent of his passes. No quarterback in the history of the NFL had ever accomplished those numbers before.
It took a full month for the Saints to find a way to win and now they come into Denver having won their last two. Unfortunately they also lost their first four so a win tonight would only get them to 3-4. There's still a lot of football left to play this season and if Brees can out-duel Manning and keep the momentum building, there's no reason the Saints couldn't find a way to still get into the playoffs.
This is the type of game that could go either way and the team with the least number of mistakes will likely come out on top. It's hard to bet against Manning with the way he's playing right now, not to mention Brees is 0-4 all-time playing in the mile high city. My prediction is for the Broncos to pull this one out 24-20.
Some of you won't have access to a television for tonight's game between the New Orleans Saints and Denver Broncos on NBC. If you fall into that group, a free live online stream option is available right here. Please ensure you have adequate anti-virus software running before opening any live stream option. Kickoff for the game gets underway at 8:20 pm EST / PST.