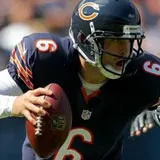 Today's early NFL Sunday Football games are highlighted by the 6-4 Minnesota Vikings visiting the windy city to face the 7-3 Chicago Bears. This game has big playoff implications as both teams are trying to keep pace with the surging Green Bay Packers atop the NFC North. The big story on everyone's lips is the Bears losing streak and who will be lined up under center.
The expectation in Chicago is that Jay Cutler, their starting quarterback who was sidelined two weeks ago with a concussion, will return after he passed the required NFL test. The Bears have yet to win in Cutler's absence with backup Jason Campbell leading the offense. Last week's 7-32 drubbing against the San Francisco 49ers and their backup quarterback, Colin Kaepernick, ignited the push to get Cutler back on the field as soon as possible.
Cutler's presence is especially important in today's game considering he is has won his last four starts against the Vikings, including three at Soldier Field where today's game will take place. The Vikings would just assume Cutler stay on the bench, though it's looking like that won't be happening as game time approaches.
The Vikings really need a win or else they will fall a full two games back of both the Bears and the Packers. Minnesota will be leaning on the running of Adrian Peterson who leads the league in rushing with 1,128 total yards and is averaging 5.8 yards per carry. He has also put the ball into the end zone seven total times including five in the last four games.
The Bears defense needs a bounce back game after Kaepernick and the 49ers running attack tore them up last week. Being at home should help them right the ship, though if Peterson gets it going, the passing lanes will open up for Christian Ponder to take advantage of.
Cutler will need to keep an eye open for Jared Allen chasing him as the Bears let the 49ers defense pound backup Campbell last week. Overall the Bears have coughed up 34 sacks against this season, second worst in the league. They need to keep Cutler upright, especially since he's coming off a nasty concussion.
Today's early Sunday NFL Football marquee match between the Minnesota Vikings and Chicago Bears kicks off at 1pm EST / 10am PST in high definition on Fox via cable/satellite or free over the air. Though not free, you can watch the official online live streaming version via NFL Sunday Ticket here. My prediction is the Bears rally behind Cutler's return and put points on the board again, coming out on top of the Vikings by a score of 23-17.