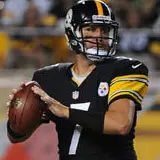 Today's afternoon NFL Sunday Football game with the biggest playoff implications has the 7-6 Pittsburgh Steelers visiting the 7-6 Dallas Cowboys on CBS. Both teams are on the bubble in the playoff hunt; the Steelers hold a Wild Card spot but not by much, and the Cowboys are only one game behind the division leading New York Giants.
Though the Steelers and Cowboys did not play one another last weekend, the Cowboys victory over the Bengals did help the Steelers keep their wildcard spot. Had the Cowboys not rallied late to win, the Steelers would be on the outside of the playoffs looking in, and the Cowboys would be two games behind the Giants with a mountain to climb in order to get in the postseason.
Ben Roethlisberger will start again for the Steelers after missing multiple games due to injury. In his first game back last week, the Steelers struggled early against the Chargers and dug a deep hole, unable to pull out in a 34-24 loss. Ben did heat up late and threw three touchdown passes including a pair to Mike Wallace.
Tony Romo will face a Steelers defense that is ranked first in the league in yards against at 169.2 per game, but missing some key pieces due to injury. Expected to sit out today are Ike Taylor, Cortez Allen and Keenan Lewis. The banged up Steelers secondary will be responsible for keeping track of Dez Bryant who has been on a tear of late with 525 yards and seven touchdowns over the past five games.
Expectations are high for Romo, especially considering his improved play of late. After struggling earlier in the season with turnovers, he has turned it on of late and only tossed three in his last six starts. Over his past games, Romo has average over 300 yards passing per game.
Today's battle for an NFC and AFC wild card spot kicks off at 4:25pm EST / 1:05pm PST in high definition on CBS free over the air or via a cable/satellite subscription. An alternative, though not free option is to watch the official online live streaming version via NFL Sunday Ticket here. My prediction is the Cowboys start slow but eventually take advantage of home field advantage and a depleted Steelers secondary to pull out a 34-27 win.