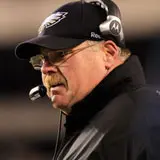 Today's early NFL Sunday Football games features the return of one of the league's most dynamic players in Robert Griffin III. The 8-6 Washington Redskins will hope to ride their rookie quarterback to a win that would keep them atop a crowded NFC East division. The 4-10 Philadelphia Eagles checked out of their season weeks ago, but feel good about the future with rookie quarterback Nick Foles and running back Bryce Brown.
Michael Vick was cleared to play after suffering a concussion last week, but coach Andy Reid chose to ride out the Eagles season with Foles getting all the snaps. In fact, Vick is the number three starter with Trent Edwards serving as Foles' backup. Vick's days in an Eagles uniform appear to be dwindling down.
Today's game marks the final home game for the Eagles and what is expected to be Reid's farewell in the City of Brotherly Love. Reid can go out with a bang if the Eagles can defeat either the Redskins this week or the Giants next as both teams are tied atop the NFC East with the Dallas Cowboys.
The Redskins are welcoming back RG3 whom has sat out the past game and a half after suffering a knee injury. Rookie Kirk Cousins stepped in and steered the Redskins to a pair of victories, but despite his strong performances, RG3 is still the man in DC and will play as long as he is physically able.
Washington owns their own fate at this point. Though they are tied with Dallas and New York, they own the tiebreaker over both teams and can clinch the division by winning out. A Redskins win today coupled with a Giants and Cowboys loss would also clinch. A Redskins win would also be the team's sixth in a row.
Today's marquee early Sunday NFL Football game between the Washington Redskins and Philadelphia Eagles kicks off at 1pm EST / 10am PST in high definition on Fox via cable/satellite or free over the air. Though not available for free, you can watch the official online live streaming version via NFL Sunday Ticket here. My prediction is the Eagles start hot and hold on for an upset win in Reid's likely final home game, pulling off a 24-23 upset.