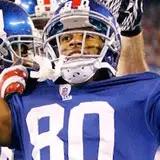 Today's early NFL Sunday Football games are rife with great match ups that will help determine the final playoff spots and positioning. In addition to the 9-4 Green Bay Packers taking on the 8-5 Chicago Bears, the 9-4 Indianapolis Colts facing the 11-2 Houston Texans, and the 10-3 Denver Broncos battling the 9-4 Baltimore Ravens, the 8-5 New York Giants fight to maintain their slim NFC East lead against the 11-2 Atlanta Falcons. It's not do or die for the Giants, but a loss coupled with either a Cowboys or Redskins win would leave the Giants tied atop their division with two games remaining in the regular season.
Last year the Giants used a late season run to make the playoffs and went on to win the Super Bowl. Like then, they are getting hot at the right time and have managed to win and keep a one game lead over the Washington Redskins and Dallas Cowboys, who are also picking up steam with the playoffs just around the corner.
Eli Manning had a field day against the Falcons last year in a decisive 24-2 win that began their playoff run. He comes into today's game having thrown eight touchdowns versus only two interceptions in the last three games. The Falcons secondary will need to be on their toes to avoid being torched by Victor Cruz and Hakeem Nicks.
One key for the Giants will be their ability to move the ball on the ground against the Falcons defense. The Giants have average 132 yards per game on the ground over the past four games, while the Falcons have coughed up 127 yards per game on the ground this season. Last week the Panthers went wild on the ground as Cam Newton ran for 116 yards and the team totaled 195 yards.
The Giants defense will be keyed in on getting pressure on Falcons quarterback Matt Ryan. With the Falcons run game struggling this year as 87 yards per game, it will be important for the Giants to limit the Falcons passing attack and force the run. This is especially true since the Falcons are fourth in the league with 289.2 yards per game through the air.
Today's featured (by a slim margin considering the other games) early Sunday NFL Football game between the New York Giants and Atlanta Falcons kicks off at 1pm EST / 10am PST in high definition on Fox via cable/satellite or free over the air. Though not at all free, you can watch the official online live streaming version via NFL Sunday Ticket here. My prediction is the Giants pull out a tough and close 31-26 victory by clinching a win via a couple big pass and run plays on offense.