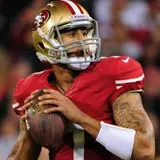 This afternoon's big NFL game that everyone is talking about features the 7-2-1 San Francisco 49ers taking on the 5-5 surging New Orleans Saints. The reason this game is hot on the radar has nothing to do with the records of these two teams. It all boils down to who will be under center for the visiting 49ers when their offense trots out onto the field for the first time.
Last week, 49ers rookie backup Colin Kaepernick turned his first NFL start into the talk of the league by making the stingy Bears defense look like Swiss cheese. He went 16 of 23 for 243 yards through the air, as well as connecting on two touchdown passes. He also gave up zero turnovers against a defense that loves to take the ball away.
Even though 49ers starter Alex Smith has been cleared to play after recovering from a concussion, Kaepernick has reportedly gotten the start and is the new starting quarterback for the team, at least for now. There's a possibility Smith could get some snaps in a platoon scenario, and Smith could start next week if Kaepernick struggles in his first road start against a team that has been improving week over week and finally living up to the lofty expectations placed on them.
The Saints started 0-4 and were considered all but done early on, but since have gone 5-1 to pull even at .500. They are very much back in the playoff race and don't care who starts for the 49ers. A win would pull them even with Tampa Bay if the Bucs drop their game against the Falcons, which is already in progress.
Leading the Saints charge has been quarterback Drew Brees and his league-best 28 touchdown passes. Brees is also second in the league with 306.6 yards per game, but knows he is in for a test against a 49ers defense that has the ability to stifle opposing offenses. Just ask the Chicago Bears.
Ironically the last time the 49ers defense gave up 300 yards through the air was against Brees and the Saints in last year's NFC divisional playoff game. Something has to give; either Brees gets it going and becomes the first quarterback to solve the 49ers secondary this season, or Kaepernick goes 2-0 as a starter in earning his first road win of his promising career.
Today's marquee Sunday afternoon NFL Football game between the San Francisco 49ers and New Orleans Saints gets underway at 4:25pm EST / 1:25pm PST in high definition on Fox free over the air or via a cable/satellite subscription. An alternative, though not free, is to watch the official online live streaming version via NFL Sunday Ticket here. My prediction is the Saints make Kaepernick uncomfortable and pull off a close 34-31 win full of amazing offensive plays on both sides.