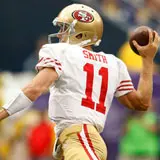 The San Francisco 49ers were annointed by many expert analysis and NFL game predictions gurus as the team to beat this season. That is until they visited Minnesota last weekend, lost, and dropped to second in their division behind the Arizona Cardinals. The New York Jets have much lower expectations but come into this NFL match up on FOX with the same 2-1 record. Live stream links for this NFL game and others on this Sunday are at the bottom of this post.
Alex Smith comes into this game versus the Jets with a subpar offensive outing hanging over his shoulders. The 49ers only put up 13 points at Minnesota and managed just one touchdown after racking up 57 points in their first two games.
In addition to scoring more, the 49ers will look to avoid turnovers that plagued them in week three. After only a single turnover in their first two games, the 49ers coughed up the ball three times last week including Smith's first interception.
One less interception threat for Smith comes from the absence of Jets cornerback Darrelle Revis who is likely out for the season. Look for Smith to pick on cornerback Kyle Wilson early and often.
Also working against the Jets' favor is the knowledge that the 49ers have won 9 of the past 11 meetings between the two teams. Maybe some of the luck that saw the Dolphins miss a chip shot field goal to win their game last weekend will carry over to this week.
Kickoff for the New York Jets facing the visiting San Francisco 49ers is set for 1pm EST/10am PST today. The game will be televised on FOX; however, if you don't have access to a television, you can pick up the live stream via NFL Sunday Ticket or head over to this website for a free live stream.
I expect the 49ers to rebound after a miserable loss at Minnesota and get their offense back into a groove by scoring no fewer than three touchdowns. The Jets, on paper at least, don't have the strength on either side of the ball to keep up.