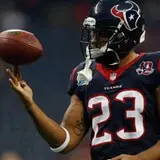 Today's NFL Saturday AFC Wild Card football game between the 10-6 Cincinnati Bengals and 12-4 Houston Texans commences the playoffs with a rematch of last year's first wild card playoff game. Though the Texans won that playoff game last year convincingly 31-10 with their third-string quarterback running the offense, this year starter Matt Schaub is healthy and will be making his first postseason start.
Unfortunately for the Texans, they enter this season's playoffs with an ominous black cloud hanging overhead. All the Texans needed to do was win either of their final two regular season games to earn a bye in the first round and watch this weekend's games from the comfort of their homes. Instead, they lost both and enter the playoffs as one of the colder teams in the field.
A key for Houston will be to get their offense back on track. Arian Foster has the potential to control the game on the ground, and Schaub needs to break out of his recent slump that was preceded by a hot start for the first half of the season. If Schaub and Andre Johnson can click through the air while Foster racks up yards on the ground, the Texans will be tough to beat.
Schaub will need to keep his eyes open for Bengals defensive threats Michael Johnson and Geno Atkins who racked up 24 sacks between them during the regular season. A pressured Schaub is a less effective Schaub, and the Bengals have been how the Texans have faltered the past month with Schaub only tossing one touchdown versus three interceptions.
Bengals quarterback was around for last year's playoff loss to the Texans and is looking to make up for a horrible performance. He tossed three picks and was laid out four times in the embarrassing elimination loss. All eyes will be on Dalton to see if he can put last year's loss behind him and play on the big stage like he's capable of.
Those of you without television access for today's Saturday AFC Wild Card game between the Cincinnati Bengals and Houston Texans on NBC can watch the official free live online streaming option here. My prediction is the Texans shake off their recent woes and repeat last year's wild card round win, albeit by a closer and lower 17-13 score due to potential inclement weather conditions that could play into more turnovers. Today's AFC Wild Card game to kick off the NFL playoffs gets underway at 4:30 pm EST / 1:30pm PST.