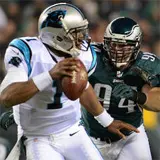 Week two of the 2013 NFL preseason kicks off tonight with three football games including the undefeated Carolina Panthers heading north to square off against the winless Philadelphia Eagles. Carolina will look for more production from their offense after the defense helped him last week's game, while the Eagles will try out a new quarterback in hopes of coming one step closer toward figuring out who will be the opening day starter.
In their opening preseason game against the New England Patriots last week, the Eagles lost 31-22 with Michael Vick getting to play with the first-team offense. Vick was efficient with his limited pass attempts in going 4-5 for 94 yards and a touchdown. So was Nick Foles in going 5-6 with 43 yards, and he will get the start and opportunity to play with the starters tonight.
A big concern for the Eagles is on the defensive side of the ball. Without Tom Brady taking a single snap, the Eagles coughed up 33 points and nearly 250 yards rushing. That's unacceptable even for the preseason and something coach Chip Kelly will be looking to improve upon in tonight's game.
Though the Panthers won their opening preseason game against the Bears, it was troubling seeing Cam Newton come in and quickly throw a first quarter interception. Bad decisions plagued Newton all of last season and they have already carried forward into this season. The interception was clearly Newton trying to force a ball into a spot he shouldn't have.
Rookie running back Kenjon Barner showed some promise with a five-yard touchdown run, but his two turnovers show a rawness that still needs to be worked on. What Barner lacks in experience he is helping to make up for in speed and quickness, something that could potentially give the Eagles fits tonight if their run defense fails to show up and perform.
Tonight's NFL Thursday Night preseason football game between the Carolina Panthers and Philadelphia Eagles gets underway at 7:30/6:30c. The game will not be televised on any network or cable channel unfortunately, however you can alternatively watch an online streaming version here via the NFL's Preseason Live package for $19.99. I'm not convinced the Eagles defense has corrected its issues and predict a 20-17 win for the Panthers on the road.