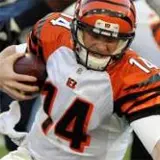 The Tennessee Titans and Cincinnati Bengals will clash in the second week two Saturday 2013 NFL preseason football game. The Titans suffered a close loss to the RGIII-less Redskins last week and hope to be on the other side of the scoreboard today, while the Bengals are coming off an easy win against the Falcons. The game's start time is 7/6c with live online streaming instructions at the end of this article.
The Bengals offense was clicking on all cylinders in their 2013 debut even after the first stringers wrapped up their first quarter and gave way to the subs. Starting quarterback Andy Dalton was sharp, while the battle for backup between former Cardinal John Skelton and Josh Johnson was met with two more strong performances and they led the Bengals to all of the offensive scores.
The running back position also saw multiple strong performances from the Bengals squad. Benjarvus Green-Ellis is expected to be the opening day starter, but second-round pick Giovani Bernard showed versatility in helping the team on the ground and through the air. On the other side of the ball, the Bengals defense only gave up 268 total yards of offense to the Falcons and hope to repeat that against the Titans.
Tennessee lost to the Redskins by a point last week, but showed promise with their renewed running game as Chris Johnson broke off a 58-yard touchdown run and as a team the Titans rushed for 92 yards in the first quarter alone. Shonn Greene also chipped in with a 19-yard run for a touchdown to help solidify the Titans backfield.
Rusty Smith had a good game under center for the Titans with his team's lone touchdown pass on 7-10 passes. Jake Locker was 7-11, but most of his snaps were handed off to Johnson and company as the running game took over for Tennessee and the running game took over. Expect the Titans to air the ball out more against the Bengals.
Tonight's week two NFL preseason football game between the Tennessee Titans and Cincinnati Bengals is unfortunately not televised outside of the team's local markets. However, the NFL has created a live streaming option that you can choose in order to watch the game here via the NFL preseason package for $14.99. It's not free, but it does grant access to view the game over the Internet on a cell phone, computer, iPad or tablet, or any Internet connected device. I predict the Bengals and Titans play a close game with the home team scoring a 25-23 victory.