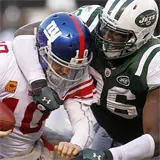 The New York Jets are taking a short stroll over to face the New York Giants in a Saturday afternoon 2013 NFL preseason week three football game. Both teams come into today's game with an even 1-1 record, but only one can exit with the guarantee of at least a .500 preseason through all four weeks. An option to online live stream the game can be found below.
The Giants appear to have solved their running back problem after the exit of Ahmad Bradshaw with the quick rise of David Wilson and Andre Brown. They both had good game against the Colts in a win last week and appeared capable and ready to handle the running back load between them.
Victor Cruz being sidelined with an injury isn't a good sign for the Giants offense, but they did get back Hakeem Nicks who caught a pair of passes last week in his first action of the preseason. The absence of Cruz was felt in the touchdown department where the Giants failed to cross the goal line, instead settling for four made field goals.
The Jets are coming off an impressive 37-13 win over the Jaguars last week but still have not figured out who will be the starting quarterback when the regular season beings. Mark Sanchez played into the fourth quarter and left with mixed results. At times he looked sharp and led scoring drives, but other times he made foolish decisions and missed some open receivers for potential scores. Geno Smith didn't play but his stock is rising as Sanchez fails to secure the starting job.
Even with Tebow out, new offensive coordinator Marty Mornhinweg has tried out the wildcat formation a few times with mostly positive results. It doesn't appear as if that offensive set will exit the Jets playbook just because of a coaching change and no Tebow behind center to start it.
The Giants should win this game with the more stable and experienced quarterback, even with Cruz remaining on the sidelines. If they can get pressure on Sanchez then the nail could be hammered into the coffin by halftime.
This evening's 2013 NFL preseason football game between the New York Giants and their visiting neighbors, the New York Jets, will kick off at 7pm EST/ 4pm PST. The game will not be shown on TV, however it can be watched via live online streaming on the NFL preseason package here that currently costs a prorated amount of $14.99 for the remainder of the preseason.