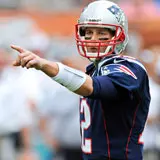 Tonight's NFL Monday Night Football game on ESPN pits two AFC powerhouses in a potential playoff preview of teams eying home field advantage throughout the post season. The 11-1 visiting Houston Texans hold the best record in the NFL after the Falcons dropped their second game and have their sights set on clinching the AFC's best record. The 9-3 New England Patriots are far removed from a home loss to the woeful Arizona Cardinals early in the season and are playing some of their best football right now. Both teams have won six in a row so something has to give at rainy Gillette Stadium.
Ignore the tabloid chatter surrounding Tom Brady and the birth of his second child this past week and the distraction that may cause. Brady is a professional and won't let his personal life get in the way of this game. After throwing a rare interception last week against the Dolphins, Brady's performance has more room to improve than decline tonight despite the less than favorable playing conditions.
Even with Rob Gronkowski out of the lineup, Brady is finding plenty of throwing opportunities with Aaron Hernandez back and Wes Welker returning to form. The Patriots defense hasn't been bad, either, holding Miami to 16 points and suffocating opponents week in and week out.
The Texans may have only one loss, but their secondary has been coughing up over 350 yards passing per game over the past three games. If Brady gets going against them, Matt Schaub is going to have to step up and launch his own aerial attack that he has already proven more than capable of doing this season. Look for Arian Foster to get going early on the ground to help open up the field for Schaub to pass into.
The stakes are big tonight for these two teams that have already clinched playoff berths. The Texans can all but write in home field advantage with a win as they will extend their lead over the Patriots to three games and own the tiebreaker. If the Patriots win, they will own the tiebreaker and be only one game back with three to go.
Tonight's Monday Night Football game with big playoff implications between the Houston Texans and New England Patriots will be televised in high definition (HD) on ESPN. A free live streaming version of the game can be watched on your tablet, mobile phone or other portable device right here at ESPN.com. Kickoff for tonight's AFC top dog game gets underway at 8:30pm EST. My prediction is home field advantage trumps all and the Patriots hand the Texans their second loss by a tight 26-20 score.