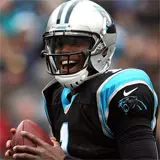 Tonight's NFL Monday Night Football game on ESPN features a pair of teams strong on paper before the season began but now relegated to looking up at the playoff pack. The 2-8 Carolina Panthers are suffering behind a sizable sophomore slump by crafty quarterback Cam Newton. More surprising are the 3-7 Philadelphia Eagles who were expected to contend for the Super Bowl and have instead spiraled into an extensive losing streak.
You know a game is meaningless to the standings when the big talking point is whether the Eagles will fire coach Andy Reid if they drop their seventh straight game after starting the season 3-1. The more recent losses have been of the blowout variety. Philly fans are calling for Reid's head and will let the boos fly tonight with every poor call.
Eagles quarterback Michael Vick will sit again tonight with rookie Nick Foles starting his second straight game. Vick is still coming off of a concussion two weeks ago, but his play up until that point had rumors speculating Foles would come in anyway in an attempt to shake things up and light a fire under the struggling offense.
The Panthers defense will not have to worry about running back LeSean McCoy who was knocked out of last week's game during garbage time with a concussion, another knock against Reid for keeping him in the game. Rookie Bryce Brown will get the start in his place and certainly have something to prove.
Loses have been much closer for the Panthers than the Eagles as six of their eight have come by six points or less. Newton's play is partially to blame as the sophomore has only tossed nine touchdowns through ten games. His eyes should light up knowing the injury plagued Eagles defense has given up an average passer rating of 143.6 over their past four losses.
Tonight's Monday Night Football game between the Carolina Panthers and Philadelphia Eagles will be televised in HD on ESPN. Those of you with cable access can watch a free live streaming version of the game on your tablet, mobile phone or other similar device here at ESPN.com. Kickoff for tonight's possible final nail in Andy Reid's coffin as coach of the Eagles gets underway at 8:30pm EST. My prediction is the Eagles rookie duet at quarterback and running back lead their offense to a close 16-13 win in a sloppy game riddled with penalties.