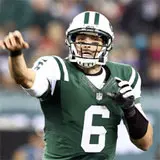 Tonight's NFL Monday Night Football game on ESPN will in a nutshell follow the 6-7 New York Jets unlikely pursuit of a late wild card playoff berth. To achieve this, they need to not only win out the season including starting with tonight's game against the 4-9 Tennessee Titans, but get some help from other teams faltering as well. At this point it will take a Christmas miracle for the Jets to continue their season beyond week 17, but stranger things have happened.
A couple weeks ago it looked like New York had already given up on the season. They were blown out by the Patriots 49-19 and in the bottom of the standings with a 4-7 record. The only glimmer of hope came from their schedule offering up a present in the form of five losing teams as opponents to close the season. So far the Jets are 2-0 in those matches, even while struggling to put points on the board.
Mark Sanchez will get the start tonight but there's no guarantee he will finish the game. He has only thrown for 208 yards over the past two games, including three picks and a fumble. Sanchez was briefly benched against the Cardinals when third-stringer Greg McElroy came in and scored the game's only touchdown. Backup Tim Tebow is cleared to play after three games out, so it's unclear who would come in if Sanchez gets lifted again.
Former Jets wideout Braylon Edwards was claimed off waivers from Seattle this past week and will play with Sanchez again in hopes of rekindling the success they shared in 2009 and 2010 that led to AFC Championship game appearances. Expect coach Ryan to call several plays in Edwards' direction to try and resuscitate the offense.
The Titans is all but done, but they do have Chris Johnson who recently passed 1,000 yards for the fifth consecutive season. He seems like wasted talent on the woeful Titans whom have lost three straight. The losing streak has even affected Johnson's performance with only 175 yards on the ground over the losing streak.
Tonight's Monday Night Football game between the wild card desperate New York Jets and sliding Tennessee Titans will be televised in high definition (HD) on ESPN. A free live streaming version of the game can be watched on your tablet, mobile phone or other portable device right here at ESPN.com. Kickoff for tonight's game of minimal playoff importance gets underway at 8:30pm EST. My prediction is the Titans play the role of spoiler and extinguish the Jets playoffs hopes once and for all by a final score of 19-13.