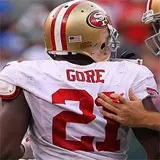 Tonight's NFL Monday Night Football game on ESPN is an odd match featuring a pair of league powerhouses that each have a hole to fill at starting quarterback. The 7-2 Chicago Bears are without Jay Cutler and will instead rely upon veteran Jason Campbell to help pull out a victory. The 6-2-1 San Francisco 49ers will be without the services of Alex Smith who, like Cutler, is sidelined due to a concussion. Rookie backup Colin Kaepernick will have to find a way to avoid the Bears rush and come out on top.
The big irony of tonight's game is that of all the teams to play each other on Monday night primetime without their starting quarterbacks, it happens to be two of the best defensive teams in the league. It will be hard enough for fill-ins Campbell and Kaepernick to come in relatively cold, much less have to do so on a national stage against extremely stingy defenses that love to punish their opponents.
Campbell filled in for Cutler last week in a 6-13 loss to the Houston Texans. He completed 11 of 19 passes and ended up with 94 yards through the air. His inability to put points in the board last week will make Bears fans cringe when wondering how he will fare against the 49ers defense.
Kaepernick has a similar line in relief for Smith last week in completing 11 of 17 passes for 117 yards. The difference is he also ran for 66 yards and put the ball in the endzone in a 24-all tie with St. Louis. Kaepernick's feet could be the difference in tonight's game if the Bears fail to contain the speedy quarterback.
The Bears and 49ers have not faced each other since 2009 in a 10-6 game that went to San Francisco. Ironically Smith and Cutler started that game and both struggled to put points on the board. It is a realistic expectation that Campbell and Kaepernick will have similar struggles in what should be a low-scoring game that relies on accurate kicking to determine the victor.
Tonight's Monday Night Football game between the Chicago Bears and San Francisco 49ers will be televised in HD on ESPN. If you have cable access, you can watch a free live streaming version of the game on your tablet, mobile phone or other similar device here at ESPN.com. Kickoff for tonight's battle of back-ups against stellar defenses commences at 8:30pm EST. My prediction is the 49ers pull this one out powered by the legs of Kaepernick and roar of the home field advantage.