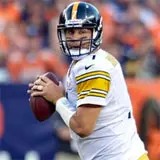 Tonight's NFL Monday Night Football game on ESPN sees the struggling 1-7 Kansas City Chiefs travel to the Steel City to take on the 5-3 Pittsburgh Steelers. The Chiefs hold the dubious distinction of not having held a lead in regulation for an entire half a season, while the Steelers have won their last two and look to continue their ascension out of mediocrity to keep pace with the surging 7-2 Baltimore Ravens in the AFC North.
In order for the Chiefs to avoid a drubbing in primetime, they will need to put points agains the NFL's top ranked defense that only allows 262.2 yards per game on average. The Chiefs offense cannot afford to continue their turnover prone ways that have lead to coughing up the ball 10 times more than any other team in the league, and that starts with stand-in quarterback Matt Cassel with Brady Quinn still sidelined due to a concussion.
The Chiefs defense hasn't done much better by allowing 30 points per game. Defensive coordinator Romeo Crennel stepped down due to his unit's ineffectiveness, including almost 9 yards per pass attempt, another league worst. Gary Gibbs will take over and hopefully inject a sense of urgency and pride in a unit that has done little right all season.
While the Chiefs have floundered for much of the season, the Steelers are finally getting back on track and living up to expectations. A win tonight will keep them one game behind the division leading Ravens thanks to a strong 24-20 come from behind victory over the New York Giants last week.
Key to the Pittsburgh offense and quarterback Ben Roethlisberger's success has been the resurgeance of their running game. Over their past three victories, the Steelers running back corps of Isaac Redman and Jonathan Dwyer have averaged an impressive 155 yards per game. That success could – and should – continue tonight against the Chiefs defense.
Tonight's Monday Night Football game between the Kansas City Chiefs and Pittsburgh Steelers will be televised in HD on ESPN. Those of you with cable access can watch a free live streaming version of the game on your tablet or mobile phone at ESPN.com. Kickoff for tonight's potential blowout gets underway at 8:30pm EST. My prediction is the Steelers start slow, then pull away by the third quarter and run away with a 30-13 victory.