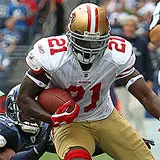 Tonight's NFL Monday Night Football game on ESPN features two NFC West teams suffering an identity crisis. The 4-3 Arizona Cardinals were undefeated at 4-0 a month ago and considered to be one of this season's biggest surprises, yet have dropped three in a row since. The 5-2 San Francisco 49ers narrowly beat Seattle last week after getting thumped by the Giants a week prior. A 49ers win will extend their grip on the division to two full games, while a loss will put the Cardinals in a tie for first.
The Cardinals have been humbled after their fast start when Kevin Kolb took over for injured John Skelton in week one and lead his team to four straight victories. Since that time and Skelton taking over for an injured Kolb, the Cardinals have managed to score a combined 33 points of offense in their last three games. They have been able to move the ball between the 35s, but putting points on the board has been elusive at best and near impossible at worst.
Aside from the Cardinals relying on interchangeable quarterbacks with mediocre career stats, their offensive line has been one of the worst in the league thus far. Skelton was sacked 7 times last week against Minnesota and has hurried many more times. Skelton's lack of mobility combined with his team's porous line is an invitation for defenses to exploit. Expect the 49ers to come at Skelton hard and often tonight.
The 49ers will rely upon their second-ranked run game to test Arizona's stingy defense. Frank Gore plays especially well against the Cardinals where he has averaged 113.2 yard per game in 11 games against the red birds. Look for 49ers quarterback Alex Smith to utilize Gore's speed and strength in screens should the Cardinals choose to cheat their defense toward the run.
My prediction for tonight's game is for the 49ers to come out strong and put the Cardinals to bed by halftime. Skelton has yet to prove he can handle pressure and avoid turnovers whether by fumble or interception. I wouldn't be surprised if the Cardinals go to their third-string quarterback Ryan Lindley by the fourth quarter.
For those of you without power due to hurricane Sandy, you can watch tonight's NFL Monday Night Football game in the desert between the Arizona Cardinals and San Francisco 49ers online or on a mobile device via a live streaming option at ESPN.com. Or, a free online live stream option is available here, though make sure your anti-virus software is up-to-date in case any bad ads appear. Kickoff for tonight's NFC West fight for first place gets underway on ESPN at 8:30pm EST / 5:30 PST.