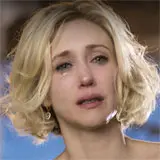 A&E's Bates Motel answered one of the lingering questions from the first season last week with a figurative punch to Dylan's gut. We learned why Norma isn't as attached to Dylan as she is to Norman, and why sometimes it seems she doesn't love him at all.
Caleb, Norma's brother, is back in town and when he tries to visit Norma after tracking her down, Dylan is surprised when Norma flips out and throws Caleb out of her home. Norma won't tell Dylan why she's mad at her brother but clearly it's something major based on how crazed she became when she first saw him in her home.
Though Norma tells Dylan to stay away from Caleb, he disagrees and meets with his uncle over some bears. Caleb confides in Caleb that the real reason he's in town is to get some cash from Norma for a business venture overseas. Dylan, feeling both under the influence of alcohol and sad for his uncle, decides to give him several thousand dollars on the spot.
When Dylan tells Norma that Caleb is still around and that he gave her his money, Norma finally breaks down and tells Dylan the truth – or at least the truth as she sees it. According to Norma, Caleb raped her every single day for years and Dylan is not only Caleb's nephew but also his son. We'll have to watch Bates Motel live streaming or on TV tonight to see Dylan's reaction to that bombshell.
Meanwhile Emma puts together a social gathering by the river to pay respects to Bradley where she committed suicide, or where everyone thinks she did. The gathering turns into a big beach party and Emma gets quite drunk. Norman, meanwhile, runs into Cody, his lady friend from the theater construction crew, and sees her making out with another guy.
Norman finds out the hard way that the guy she was making out with is gay and she was only doing it for fun at the party. Norman gives Christine a ride home, while Norma enters the townie scene with her new friend Christine and meets a possible future gentleman caller in Christine's brother, George.
The synopsis for tonight's new Bates Motel episode reads, "A new revelation forces Dylan to question his loyalty to Norma and Norman. Christine brings Norma into the White Pine social scene."
Bates Motel Season 2, Episode 4 'Check-In' premieres tonight 10/9c exclusively on the cable channel A&E.
The official A&E website offers the most recent Bates Motel episode within a couple days after it first airs on TV, uncut and free with no login. An immediate way to watch Bates Motel online streaming is by visiting Amazon.com here where 'Check-In' can be watched on phones, tablets, iPads, computers and more. Episodes at Amazon cost $2.99 for HD and $1.99 for standard definition versions.