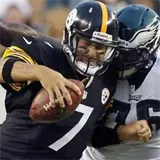 Tonight's NFL Thursday Night Football primetime match on the NFL Network between the 2-2 Pittsburgh Steelers and 1-4 Tennessee Titans screams of mediocrity. The Steelers are coming off a close win at home versus Philly, but their road defense has been nothing short of atrocious thus far in this still young season. The Titans, meanwhile, have struggled to score and to make matters worse have given up more points than any other team in the league. Links to watch a live stream of tonight's game online are at the bottom of this post.
Ben Roethlisberger was the Steelers' savior last week in engineering a game-winning drive in the fourth quarter that put Philly away for good via a field goal in the closing minute of play. If you take away that drive, the Steelers only managed a touchdown and two field goals over the previous three quarters of play. Maybe the league's weakest defense is exactly what Roethlisberger and the Steelers offense needs to get into a groove.
The Pittsburgh defense will be under the microscope tonight for giving up over 30 points per contest this season on the road. They will face the Titans offense without safety Troy Polamalu and possibly linebacker LaMarr Woodley as well. Any point total against under 30 would be a step in the right direction for the Steelers. Ultimately they would like to completely smother the Titans offense from the get go.
Last week the Titans got blown out by the surprise Minnesota Vikings 7-30. Matt Hasselbeck is expected to start again in place of injured Jake Locker. He will need to do considerably better than 200 yards of passing, one touchdown and one interception to have a prayer of matching Roethlisberger.
The only reason this game isn't a guaranteed blowout on paper is due to it being played in Tennessee. The Steelers road struggles are the only positive the Titans have to leech onto and hope to ride into what would be a big upset victory.
Those of you without television access tonight can watch the NFL Thursday Night Football online live stream of the Pittsburgh Steelers visiting the Tennessee Titans by clicking over to NFL.com. An alternative free online streaming option is available here. The NFL Thursday Night Football game kicks off the pigskin at 8:20 EST / 5:20 PST.