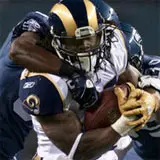 Tonight's NFL Thursday Night Football match up airing on the NFL Network between the 4-0 Arizona Cardinals and 2-2 St. Louis Rams has "it's a trap!" written all over it. The Cardinals come in undefeated but have been lucky and benefited from some close calls to steal a couple wins. The Rams, meanwhile, took down a tough Seattle team last week at home and hope to have similar success against the visiting red birds from the desert. Free live stream links for tonight's game are available at the bottom of this post.
The Cardinals have been squeaking by opponents this season with three of their four victories being decided by less than a touchdown. They needed overtime to dispose of Miami last weekend in a game they could have easily lost had late turnovers not fallen their way. Kevin Kolb was able to protect the football for the most part and play a sound game to pull out a win including a fourth and ten conversion for a game tying touchdown in the closing seconds.
History is on the side of Arizona as they visit St. Louis for only their second road game of this young NFL season. The Cardinals have won nine of their past ten games against the Rams and, more impressively, seven straight in St. Louis. Last season's games between the clubs were both close affairs that the Cardinals pulled out. Tonight's game is expected to be another close battle.
The Rams will likely end up with quite a few field goal opportunities based on the way the Arizona defense has been playing. Last weekend the defense slipped a bit against Miami, but they came up big late and in overtime to help seal the win. The Rams have been struggling to put the rock in the end zone this season, but their rookie kicker Greg Zuerlein has been perfect thus far regardless of distance.
Unfortunately for the Rams, Arizona has been finding the end zone more frequently as the season has wore on. As Kolb gets more comfortable with his offense and the line finds ways to give him time to throw, expect Arizona's passing attack to make up for its dismal 29th ranked rushing game.
Watch the NFL Thursday Night Football online live stream of the Cardinals at the Rams by visiting NFL.com here if you can't be near a television tonight. You can check out this website for an alternate free online streaming option if the first link is a no go. The Thursday Night Football game gets underway at 8:20 EST / 5:20 PST.