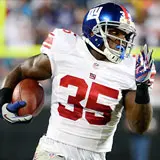 Tonight's NFL Sunday Night football match sees the New York Giants taking on NFC East division rival Philadelphia Eagles in Philly. It's a battle of 2-1 records and a chance for one of these teams to take a big stride toward competing for the division crown with the Dallas Cowboys also sitting at 2-1. The game will be televised in HD on NBC with a free live stream option for you to watch at the bottom of this post.
For the Eagles to have a chance to win they must cut down on turnovers. Through the first three games of the season, Michael Vick and his Eagles have turned the ball over a whopping 12 times. Yet somehow they still have a winning record despite an inability to protect the ball.
Vick especially needs a bounce-back game after being roughed up in Arizona last week. Better protection would be a good start as Vick has been hitting the turf far too many times this early in the season. At this rate Vick won't make it to week 12, much less week 17.
Eli Manning, meanwhile, had a cakewalk last weekend in the Giants' big win over Carolina. Manning currently leads the NFL with 1,011 passing yards, but will be without the services of wideout Hakeem Nicks for the second straight week. That didn't hurt Manning's stats last week as fill-in Ramses Barden nabbed nine balls for a career-best 138 yards.
This is the kind of game that can go either way. The Eagles will be pumped to be back home and should put forth a better effort than last week's debacle. The Giants are riding the NFL's hottest quarterback and feel like they can beat anyone, anywhere. I'm going to take the home team and say the Eagles pull this one out by less than a score.
For those that don't have immediate television access to watch the game on NBC can see the NFL live stream of the New York Giants at the Philadephia Eagles right here. One team will fall back in the rankings when these NFC East rivals kick off at 8:20 EST/5:20 PST.