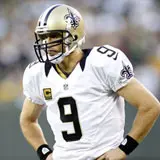 Tonight's NFL Sunday Night Football game on NBC is an exercise in contrasting seasons. The 3-1 San Diego Chargers take their winning record into New Orleans where the 0-4 Saints make their fifth attempt at getting into the win column. Either the Chargers will move to 4-1 or the Saints will be staring down an unlikely 0-5 start. Free online live stream links for this game are in the last paragraph below.
Despite the Saints season being a complete mess thus far, quarterback Drew Brees is on the verge of setting an NFL record for the most consecutive games with a touchdown pass at 48. The record has stood for over 50 years and requires three consecutive seasons of games with a touchdown pass to eclipse.
I'm sure if you ask Brees about the record he will admit it is the furthest thing from his mind. Brees and his Saints need a win in the worst way as the Atlanta Falcons beat the Washington Redskins earlier today to move to 5-0. A loss would leave the Saints five games behind in the division and requiring a miracle to try to win it by season's end.
Ironically the last team to start a season 0-4 and make the playoffs was the 1992 San Diego Chargers. This year's Chargers team would just assume send the Saints to 0-5 and continue their quiet but successful season thus far.
Chargers quarterback Philip Rivers will be salivating to face the league's worst defense by yards-allowed-per-game at 463.3. Rivers could use an offensive boost considering the mediocre 224.3 yards per game he has put up thus far. If winning means less than 250 yards of passing then Rivers will take that each and every week.
Some of you might not have immediate television access to watch tonight's game in high-def on NBC. If you fall into that group, you can watch the NFL live stream of the San Diego Chargers at the New Orleans Saints right here. Either the Saints will remain winless and slip further back in the NFC South or the Chargers will secure their fourth victory when these teams kick off at 8:20 EST/5:20 PST.