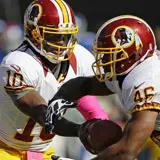 The mediocre 3-4 record of the Washington Redskins and 3-3 record of the Pittsburgh Steelers don't exactly scream an exciting Sunday NFL Football game. Normally they wouldn't, except these Redskins are directed down the field by Robert Griffin III and he's been one of the biggest highlights of the season thus far.
Griffin comes into today's game having almost engineered a road victory over the defending Super Bowl champion New York Giants. The narrow 23-27 loss went down to the wire, and Griffin did engineer a go-ahead drive to connect with Santana Moss with only 1:32 left in the fourth quarter. As as happened often to the Redskins this season, their secondary got burned big and gave up the game-winning score.
In that game, Griffin threw for 258 yards and ran for another 89, not too shabby for a rookie playing at New York. He continues to lead the league with a completion percentage just north of 70 percent and has the third highest passer rating in the league behind only Peyton Manning and Aaron Rodgers.
The intrigue in this game comes from Griffin and fellow standout rookie Alfred Morris, their running back to racked up 120 yards on the ground last week and is third in the league with 94 yards per game, facing off against the Steelers and their stingy defense. Even though safety Troy Polamalu remains sidelined with a calf injury, the Steelers are still stellar on defense and held the Bengals to a mere 185 total yards of offense last week. Overall they rank second in the league in yards against with 287.5.
Ben Roethlisberger loves playing NFC teams at home and is nearly unbeatable when he does. Though the Steelers are off to a slow start this year, Big Ben is starting to warm up and can beat any team in the league when he's on his game.
Today's early Sunday match between the Washington Redskins and Pittsburgh Steelers kicks off at 1pm EST / 10am PST on Fox. You can watch the online live streaming version of the game via NFL Sunday Ticket by visiting here, or go the free online live stream route by ensuring your anti-virus software is up-to-date and visiting here. I think the Redskins secondary will once again prove to be their Achilles Heel and Big Ben will rip them apart to secure the victory for his Steelers.