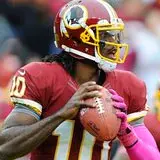 The 3-3 Washington Redskins face the 4-2 New York Giants today on Fox in the first found of NFL Sunday football games. It's a huge game for both teams, but especially the Redskins who play their first NFC East divisional game against not only the first place team, but the defending Super Bowl champions. A win today and Griffin's status among today's NFL quarterbacks could be promoted to the elite ranks. Free live online streaming options for this NFC East game and others are available at the conclusion of this post.
Last week the Giants walked into San Francisco and manhandled the 49ers 26-3 in what was supposed to be a tough match up between two of the stronger teams in the league. The Giants defense zeroed in on Frank Gore and stuffed the 49ers rushing game, then wouldn't get quarterback Alex Smith get into any kind of a rhythm in the passing game.
Eli Manning played strong against the 49ers and now faces one of the more porous passing defenses in the league. The Redskins have given up over 328 yards through the air per game, a league worst. Not helping Washington's cause is the absence of safety Brandon Meriweather who will be sitting out his fourth straight game due to injury.
The Giants will need to contain not only Robert Griffin III's arm, but his legs as well. Griffin comes into today's game with 379 rushing yards on the ground, easily tops amongst all quarterbacks in the league and 15th overall amongst all players including running backs. That million dollar arm of his has completed 70.2 percent of its passes, another league best, and helped defeat a surprisingly tough Minnesota Vikings squad last week 38-26
On the ground it will be a battle of a vet and a rookie. Afmad Bradshaw has been running strong of late for the Giants which has helped Manning open up the passing game. The Redskins will counter with Alfred Morris, a rookie who has racked up the fourth-most rushing yards in the league with 528.
The Washington Redskins will begin their mission to tie the New York Giants atop the NFC East when today's game kicks off at 1pm EST/10am PST today in high definition on Fox. Those of you without television access can watch the online live stream via NFL Sunday Ticket or find a free online live stream at this website. I will go out on a limb and predict the Redskins pull off an upset and win on an RG3 game-winning drive in the fourth quarter.