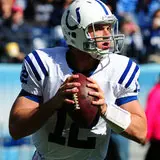 Today's first round of NFL Sunday Football games feature few intriguing matches. One that stands out from the pack is the 4-3 Miami Dolphins taking on the also 4-3 Indianapolis Colts on CBS. Each team is lead by a rookie quarterback and rookie coach, not ideal conditions for a playoff contender. Yet both teams defied predictions and find themselves in the playoff hunt and square off in a game that will send one of them much closer to achieving that lofty goal.
Unfortunately the Dolphins may be without rookie quarterback Ryan Tannehill. He suffered a bruised knee and quad muscle in last week's big victory over the New York Jets and will be a game time decision against the Colts. The odds seems to favor Tannehill taking the field considering he split snaps with backup quarterback Matt Moore at practice this past week.
Even if Moore takes over for Tannehill, he has already proven the ability to win games. Last season Moore threw 16 TDs versus 9 picks. After Tannehill went down last week, he came in and went 11 of 19 for 131 yards in helping to seal the victory.
The Colts will lean on a pair of leaders in what will be an emotional game for the team. Andrew Luck has lived up to expectations in leading last year's worst team to a winning record thus far. He continues to improve week after week including an 80-yard game tying touchdown in the fourth quarter and another to win in overtime against the Titans last week.
Coach Chuck Pagano is expected to be in attendance at today's game. He left the team in late September after being diagnosed with leukemia. Offensive coordinator Bruce Arians has lead the Colts to a 3-1 record since taking over in Pagano's absence. Though Pagano will watch today's game in person and possibly visit the players in the locker room before kickoff, he is not expected to formally rejoin the team and resume coaching duties anytime soon.
Today's early Sunday match between the Miami Dolphins and Indianapolis Colts gets underway at 1pm EST / 10am PST on CBS. Watch the online live streaming version of the game via NFL Sunday Ticket by visiting here, or go the free online live stream route by ensuring your anti-virus software is up-to-date and running, and visiting here. My prediction is for the Colts to ride the emotional high of Pagano being in attendance to a victory by fewer than three points.